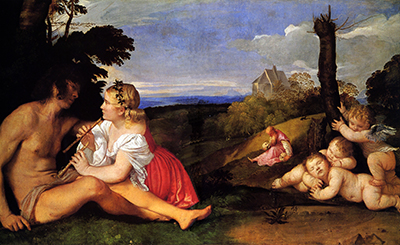 Buy Art Prints Now
from Amazon
* As an Amazon Associate, and partner with Google Adsense and Ezoic, I earn from qualifying purchases.
The Ages of Man by Tiziano Vicelli, more commonly known as Titian, which dates from between 1512 and 1514, is considered one of the painter's most important works.
Renowned as one of the more versatile painters of the Renaissance, many experts regard Titian as the most significant Italian painter of the 16th-century Venetian school. The Ages of Man is heavily influenced by the work of Giorgione, another notable Venetian painter. It is widely acknowledged that some of Giorgione's paintings, whose motifs encompassed landscapes and nude figures, were completed by Titian after his death in 1510 at the age of 33. Several copies of The Ages of Man are known, one of the best of which is housed in Rome's Doria Pamphilj Gallery.
The Ages of Man serves as an allegorical meditation on the transience of human life and stands as Titian's interpretation of the life cycle. To the right of the painting, Cupid watches over two sleeping infants. To the left of the children, two young lovers hold each other. The picture's backdrop shows an older man examining two skulls, the implication being that they are the young lovers at the forefront of the painting. The church behind the man serves as a reminder of eternal life, one of the central tenets of Christianity.
The painting, which stands at 90 centimetres high and 151 centimetres wide, has a long and storied ownership history. It came into the ownership of Princess Christina of Sweden circa 1662 on her travels from the Netherlands to Italy, where she listed it in her collection at the Palazzo Riario in Rome. From there it passed through the hands of Giovanni da Castel Bolognese, a famous Italian gem engraver and later Otto Truchsess von Waldburg, the Prince of Augsburg, a prominent patron of the arts.
Subsequently, the Italian nobleman, Prince Odescalchi, gifted it to the Duke of Orléans, a member of the French Royal Family. It remained in the Orléans collection until 1798, a significant group of around 500 paintings formed by the Duke of Orléans between 1700 and 1723. The picture was purchased alongside most of the Orléans collection by Francis Egerton, the 3rd Duke of Bridgewater. His descendants then sent the entire assortment of paintings in the Scottish National Gallery for display, where The Ages of Man remains to this day. Titian's work with its lively brushwork and use of colour remains hugely influential. The Ages of Man, known for its bright colours and smooth appearance, lies in sharp tonal contrast to his later work, with its dramatic contrasts and broken brushwork.