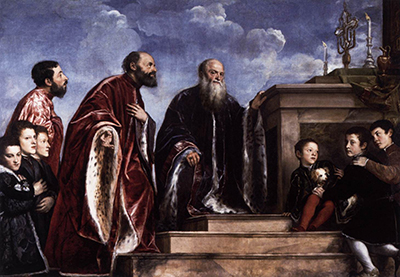 Buy Art Prints Now
from Amazon
* As an Amazon Associate, and partner with Google Adsense and Ezoic, I earn from qualifying purchases.
This painting from 1555 is said to contain brothers Andrea and Gabriel Vendramin alongside seven sons and what is referred to as the miraculous cross
The painting was originally completed around 1545 before the artist re-visited it in order to make some amendments. This large piece is almost three metres in width but paintings of this grand size were frequent during the Renaissance period, because of the venues that they were often being designed for.
Gabriel Vendramin is known to have been a passionate art collector and it is possible that it was he himself who commissioned this painting. The True Cross found on the altar in the top right of this composition is still in existence, all these years later. It is in the Scuola di S. Giovanni Evangelista in Venice and helps to connect this painting with the present day.
The boy holding a puppy contrasts in style to the way in which the other sons are styled. The general concensus is that Titian would have produced the former, with his studio putting together the remaining members of the family. They do not possess quite the same mastery that you would expect of this master.
Some areas of the painting around the figure of Gabriel have become worn over time and have started to reveal some of the initial underpainted outlines that the artist would put together at the earliest stages of the work in order to lay out the main elements.