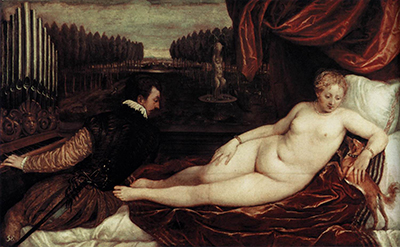 Buy Art Prints Now
from Amazon
* As an Amazon Associate, and partner with Google Adsense and Ezoic, I earn from qualifying purchases.
This is among the series of paintings that Titian the great Italian painter made of the nude Venus sleeping on a bed in the late 1540s.
Each of the paintings had some variance with only this being of Venus, an unidentified man playing an organist and a little dog. This painting is not only a great piece but also a stroke of genius, embodying listening and watching skills with the nudity taking most of everyone's attention. Tiziano takes us again through his great imagination where he swiftly comes up with a stunning success of art that proves he indeed was a skilled painter.
This great piece of art just like its other pieces in his collections was developed using Titian's most liked technique, oil on canvas. The profound artist went ahead and gave us a painting filled with erotic mood, charm, love and beauty, developed during the Venetian Renaissance. He made this painting and its respective versions in his workshop.
With a couple of swift moves and a creative mind, Titian brings to life a comprehensive painting that unveils his deeper understanding of the subjects in the painting. This portrait unlike the other versions captures Venus staring at the dog unlike some which he stairs suggestively at the audience. Titian delivers a seductive environment boldly without compromising anything. The red velvet cover intensifies the beauty of the painting while the dark background amplifies Venus's nudity even further. The dog although a buzzkill, seems to have drawn Venus's attention and this may signify how much close she was to it.
Titian goes on to come up with an amazing physic of not just an amazing woman but also a strong one. This might as well show how powerful the goddess was despite being a natural woman with all visible features. Throughout the portrait, there is some interest seen in the musician who is seated at the end of the bed playing an organist. He is seen bending backwards, gazing at Venus's unmatched beauty. His stare not just a mere look but more of curiosity and admiration of the beauty the goddess possess.
He again uses his amazing painting skills to come up with a detailed flesh to make Venus's body to look real as though it's a picture. You can clearly see Venus's head gently resting on the pillow with her familiar lovely face expressively facing away from the audience. Titian had a way to make the main subject stand out and in this great portrait he decided to make the background dull. All we can see is an open path between two gardens leading to a distant mountains.
The current location of this amazing painting is at Museo Del Prado and the Staatliche museen in Berlin. It is not known who commissioned the painting neither is there was anyone that participated on its creation.