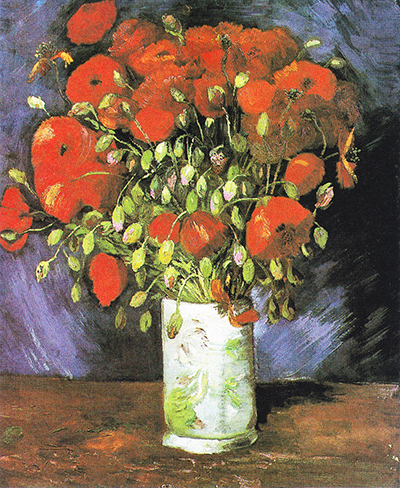 Buy Art Prints Now
from Amazon
* As an Amazon Associate, and partner with Google Adsense and Ezoic, I earn from qualifying purchases.
Vincent van Gogh belonged to that elite rank of artists whose painting style is immediately recognisable at first glance.
Upon seeing one of his paintings, nobody could mistake his bold use of colour or whirlpool-like brushstrokes: he was a true visionary, one who was able to convey his unique perspective with every painting he made, no matter how mundane or everyday the subject matter. Vase with Poppies is a strong example. While not as well-known as his famous sunflowers, Vase with Poppies is an ample illustration of Van Gogh's skills as an artist. The painting depicts a mass of poppies - some red flowers, others green buds - erupting from a simple white vase.
The redness of the leaves merges together almost into a cloud of colour and sensation, contrasting with the relatively naturalistic portrayal of the green buds. Surrounding the flowers is a blue-grey backdrop, the brushstrokes describing a circle that envelopes the poppies almost like a gloomy aura. Countless artists have painted still lives of flowers, but only Van Gogh could have painted Vase with Poppies. His technique is evident with every stroke - from the stark colour choices, to the mixture of impressionism and naturalism, to the all-encompassing combination of the colourful and the sombre. Any observer with even a passing familiarity with the artist's work will immediately identify Vase with Poppies as the work of Vincent van Gogh, and none other.
The uniqueness and unforgettable emotional pull of Van Gogh's work has ensured that his paintings retain widespread popularity as prints. Countless people around the world own prints of Van Gogh paintings, which when hung on the wall will drastically alter the overall mood of a house for the better. After all, one of Van Gogh's greatest strengths was his ability to inject raw, personal emotion into every scene that he depicted, be they portraits, landscapes or still lifes.
When it comes to choosing a Van Gogh print to put on show in their home, many people will doubtless choose from his most iconic work, such as Starry Night or Sunflowers. However, if you truly want a piece that will stand out, then it might be a good idea to choose one of his lesser-known works. Vase with Poppies is just perfect for this task: although it is not one of his more famous paintings, it is a sterling example of his skill as an artist. Once you bring it to your home, it will serve as an attractive conversation piece for visitors, as well as a strong subject for aesthetic meditation for you and your family.