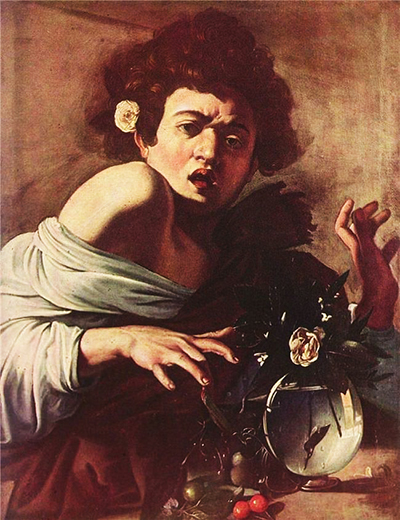 Buy Art Prints Now
from Amazon
* As an Amazon Associate, and partner with Google Adsense and Ezoic, I earn from qualifying purchases.
Boy Bitten By a Lizard is a typical oil painting by Caravaggio, the baroque era painter who is renowned for a series of sombre yet stark and attention grabbing works.
In this case, the work is symbolic of Caravaggio's time in Rome (which unceremoniously came to an end when he fled following a murder in the early 17th century.)
Boy Bitten By a Lizard was one of several works by the artist as a gift to the cardinals of the city, and is characterised, perhaps out of the ordinary, by a real living model. In many of the artist's earlier and later works, he favoured biblical scenes and myths, yet this painting tells the story of a model no doubt requested by Caravaggio to pose in the style that he did.
The boy in the image is typical of Caravaggio's usual choice of model; a young, healthy and archetypal child, with flowing brown hair and healthy red lips. However, the canvas shows the child reeling from the bite of a lizard that has emerged from a bowl of fruit. The child has bared his shoulder, ostensibly as a result of jumping away from the bite.
Two versions of this painting exist; one from 1593-1594 and one from 1594-1596. Both are believed to be authentic, and it has been debated that the child in the painting could indeed be an image of Caravaggio himself. The boy is widely accepted as being more effeminate than Caravaggio's legend tells, but the features, whilst those of a younger man, match with those of Caravaggio's reputed appearance. However, it has also been suggested that it may have been his travelling companion at the time.
Furthermore, Boy Bitten By a Lizard has been described as a potential play on the subject of religion; much like Adam was tempted to try the forbidden fruit by a snake, the child in this painting has been tempted by another type of fruit, and attacked by a reptile hiding amongst it.
It is also regarded by many as a metaphor for the dangers of vice; a boy getting bitten for attempting to partake in something that tempted him.
Whatever the intention behind the painting, the work is typical of Caravaggio's work; a dull, sombre choice of colours and a purely believable, earthly setting, devoid of any kind of spiritual or religious overtones or indeed undertones unless one considers the religious suggestions made earlier.
It's a perfect complement to other Caravaggio works such as Boy With a Basket of Fruit and The Fortune Teller, both images featuring a similar boy and showing off Caravaggio's talent for portrait work.