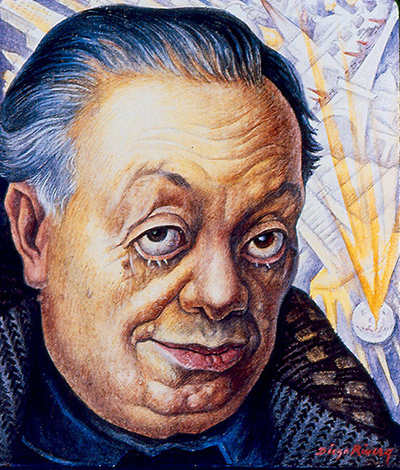 Buy Art Prints Now
from Amazon
* As an Amazon Associate, and partner with Google Adsense and Ezoic, I earn from qualifying purchases.
Diego Rivera is perhaps the best-known muralist of the 20th century. Born in Mexico, in 1886, he is remembered as somewhat of a ladies-man who married four times, most notably to fellow artist Frida Kahlo.
However, Rivera was a social-realist and his art often presented a social or political narrative that is sometimes hidden behind the sheer beauty of his work. Although his murals are certainly masterpieces, Diego was trained as a fine artist and he produced many remarkable paintings, several in the cubist style made famous by Pablo Picasso. When Rivera died in 1957 at the age of seventy, he left behind him a profound body of work which continues to inspire and delight wherever in the world it is found. Whether you find his art painted on a wall or simply hung there, it will always tell a story of the world in which he lived.
Nurturing the Genius
Diego's artistic talent was apparent from a very young age. It is said that he was drawing and painting from the age of three. His preferred canvas was allegedly the walls of his home, not so unusual for a toddler, but perhaps a sign of things to come. At aged just ten years old, he was awarded a financial grant to attend The Academy of San Carlos in Mexico City, a very prestigious art school in Mexico, where he studied for eleven years. Rivera's artistic education was very well rounded at the Academy and he was encouraged to explore everything from traditional techniques of painting to sculpture.
In addition, he received training under Gerardo Murillo who was a great advocate of Mexican art and cultural traditions. During this time, Rivera was also heavily influenced by Jose Posada. Posada was a famous Mexican print-maker who was very politically engaged, and he held great sway over many artists and writers of the day. He was astute and his commentary of the times really spoke to the people both in the run up to and during the Mexican revolution of 1910. It seems that Diego's association and admiration for Posada may have established him as the politically and socially aware man he was to become. Rivera left Mexico in 1906 when he was awarded a second grant to travel to Spain and continue his studies.
Cubism and Other Influences
Rivera's studies continued in Spain in the same way that they had begun in Mexico, through a very traditional and classical lens. However, in 1909 he travelled to Paris and it was then that his education truly began. The Paris art scene of the early twentieth century was buzzing with post-impressionists and the new style of cubism. Diego soon fell in with the it crowd and befriended young rebels like Pablo Picasso and Georges Braque; soon to be shining lights of the new movement.
Rivera threw himself into cubism and very effectively blended it with his fine art training to produce his earliest master works such as, The Woman at the Well 1913 and The Alarm Clock 1914. The artist's work was beginning to draw attention as he began to stretch himself and grow into his style. He even began to experiment with the post-impressionist styles of the time, inspired by the art of Paul Cezanne, using bold, vivid colours to suggest feelings and form. However, Diego's style would not crystallise into its own genius until he was to return home to where it all began.
Rivera and Mexican Muralism
In 1921, Diego was offered a commission from the newly established Mexican government, more specifically Jose Vasconcelos, the self-style czar of culture. The mural program was intended to inspire and reunify the country after the horror of the revolution. Headed by the prominent Mexican artists of the day including Jose Clemente Orozco, David Alfaro Siqueiros and of course.
Rivera himself, this project allowed Diego to begin to establish his own style. Diego's first mural, Creation 1922 had more of an Art Deco feel to it, but he very quickly found his stride. Based on the influences of Gauguin with his simple lines and the vivid colours and the traditions of folk art of the indigenous peoples, Rivera found a way to tell the story of the citizens of the new Mexico, where they had been and where they were going.
Based on his early success, Diego was subsequently commissioned to paint murals for the government buildings in Mexico City. A huge project of 117 murals which took over four years to complete, they tell the story of the 1910 revolution through the eyes of the workers and the soldiers and chronical the birth of a nation. Diego's mural work in Mexico was so profound that it quickly established him as an artist of great worth and he began to receive and accept many commissions, a great many of them coming from America.
Important Works
Rivera's most famous works are certainly his murals. The Detroit Industry Murals 1932 for example are a vast installation of 27 frescos housed in the Detroit Institute of Art. They depict all manner of scientific and industrial achievement including the most well-known, Ford Motor Company's River Rouge Plant. Diego himself considered this to be his most accomplished work. Ironically, however, perhaps his most famous mural is the one which was destroyed.
Man at the Crossroads 1934 was commissioned by the Rockefellers for the lobby of their Rockefeller Center in New York. When Diego refused to remove the image of Lenin which he had incorporated into the fresco, Rockefeller had it destroyed. Happily, Rivera had previously photographed the fresco and later recreated it exactly in Palacio de Bellas Atres in Mexico City where it can be found today. He re-christened the mural Man, Controller of the Universe and its infamy makes it Rivera's most recognisable work.
Rivera was also very accomplished in oils, and he created many beautiful paintings. Perhaps the most famous of these works is The Flower Carrier 1935. It describes a man under a heavily loaded basket and is, true to Diego's social-realist sensibilities, a commentary on a worker's struggle against capitalism.
Diego's Legacy
Rivera's greatest and perhaps most obvious legacy is his body of work, itself. His murals certainly stand as testimony not only to his great talent, but also to his social conscience and to who he was as a human being. Throughout his career, it was always the common man and woman who inspired Diego to his best and most lyrical works. Clearly then, it is no surprise that his most profound legacy is that he inspired so many art programmes and movements in the field of creative arts.
Rivera believed that art was a social commentary of its time; to him, it was impossible for an artist to create truly meaningful work without drawing from the life and times around them. Art should always be honest and imitate the life that produced it. Without Diego's way-showing in the field of mural art, we would potentially have no Mona Caron or even Banksy. Certainly, the great scope of his murals inspired American greats such as Thomas Hart Benton, Ben Shahn and the legendary Jackson Pollock to name only a few. Ultimately it is the impact, both visually and socially of his work that he is remembered and appreciated for and will be for generations to come.