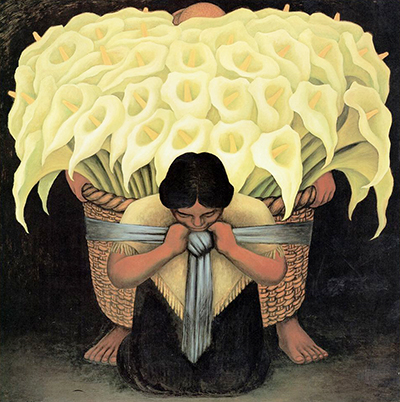 Buy Art Prints Now
from Amazon
* As an Amazon Associate, and partner with Google Adsense and Ezoic, I earn from qualifying purchases.
Diego Rivera continues his focus on the lives of the Mexican working poor in this bright and powerful depiction of a Vendedora de Flores (Flower Vendor/Seller).
Interpretation of cultures and people's lives in their simplistic nature whilst trying to bring out an enchanting work of art is not a reserve for anyone who can take hold of a brush and paint on a surface. Normally, lovers of the finished works look at the beauty of the painting, the significance it has in aesthetically enhancing the look on the wall about the bold hues and soft finishes. However, a different angle to these paintings gives us the mind of the painter and what he wants to tell his/her millions of fans. Diego Rivera in his painting Flower Vendor (Girl With Lilies) tries to hide his emotions and the feelings of the Mexican natives in his work. In this piece, he uses thick and emphatic colors to bring out the contrast in his 3D painting perfectly. The girl who in this case is the vendor kneels before her collection of lilies that are mostly associated with death and funerals.
This moving artwork was completed in 1942 and was just one of a number of paintings that Diego Rivera produced during this period along the same theme of hard working local Mexicans. Though the vendor's face is not seen, there is no sign of ecstasy replicated maybe because of the suffering of the Mexican nationals, their cultures, and traditions. The young woman has her head bowed, and her hands spread clutching her flowers, a reflection of how heavy life might have weighed her down. About other Flower Vendor paintings, Rivera seems to have the same thought. All his characters have a load of flowers on them but are not smiling for the bountiful beauty they are carrying along but rather the after sale benefits. Some of the paintings that have the same flow with The Flower Vendor by the same Mexican painter include The Flower Seller and The Flower Carrier in their different variations but the same theme. Rivera's choice of using flowers to show people's suffering was inspired by the beautiful country and how the citizens suffer to make ends meet.
The artist was introduced into the painting world by two Europeans artists Picasso and Duchamp after he had befriended them for almost a decade. However, the Pre-Colombian era in his native Mexico made his work mature up and get reflected in most of his works of art.
Some other famous artworks that have been inspired by flowers include a number by Vincent Van Gogh who gave us paintings like Irises, Sunflowers and Almond Blossoms. See also Modernist Georgia O'Keeffe's Jimson Weed, Oriental Poppies and Hibiscus with Plumeria.
Previous to these, we can appreciate the work of the impressionists with whom nature was a highly significant element to their oeuvre, and several members of their group were actually gardeners themselves. They felt the environment around them in their very bones and even created their own "studios" in the outdoors, working En plein air.