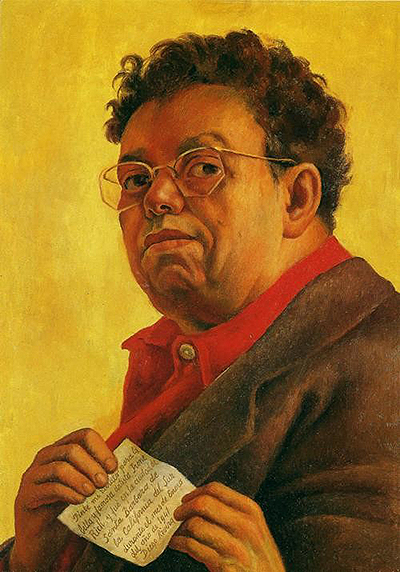 Buy Art Prints Now
from Amazon
* As an Amazon Associate, and partner with Google Adsense and Ezoic, I earn from qualifying purchases.
Diego Rivera quotes are not hard to find - this charismatic Mexican extrovert was never far from the news during his lifetime and always had plenty to say about various topics, most notably art, politics and love.
Famous Quotes by Diego Rivera
An artist is above all a human being, profoundly human to the core. If the artist can't feel everything that humanity feels, if the artist isn't capable of loving until he forgets himself and sacrifices himself if necessary, if he won't put down his magic brush and head the fight against the oppressor, then he isn't a great artist.
As an artist I have always tried to be faithful to my vision of life, and I have frequently been in conflict with those who wanted me to paint not what I saw but what they wished me to see.
As I rode back to Detroit, a vision of Henry Ford's industrial empire kept passing before my eyes. In my ears, I heard the wonderful symphony which came from his factories where metals were shaped into tools for men's service. It was a new music, waiting for the composer with genius enough to give it communicable form. I thought of the millions of different men by whose combined labor and thought automobiles were produced, from the miners who dug the iron ore out of the earth to the railroad men and teamsters who brought the finished machines to the consumer, so that man, space, and time might be conquered, and ever-expanding victories be won against death.
Every good composition is above all a work of abstraction. All good painters know this. But the painter cannot dispense with subjects altogether without his work suffering impoverishment.
Fidelity is a bourgeois virtue and it exists only to exploit people and to obtain an economic gain.
From sunrise to sunset, I was in the forest, sometimes far from the house, with my goat who watched me as a mother does a child. All the animals in the forest became my friends, even dangerous and poisonous ones. Thanks to my goat-mother and my Indian nurse, I have always enjoyed the trust of animals--a precious gift. I still love animals infinitely more than human beings.
I am an atheist and I consider religions to be a form of collective neurosis. I am not an enemy of the Catholics, as I am not an enemy of the tuberculars, the myopic or the paralytics; you cannot be an enemy of the sick, only their good friend in order to help them cure themselves.
I did not know it then, but Frida had already become the most important fact in my life. And would continue to be, up to the moment she died, 27 years later.
If I ever loved a woman, the more I loved her, the more I wanted to hurt her. Frida was only the most obvious victim of this disgusting trait.
I knew how one climbing the mountain of worldly success can slip down into the river below without being conscious of the descent till he is already drowning.
In my previous murals, I had tried to achieve a harmony in my painting with the architecture of the building. But to attempt such a harmony in the garden of the Institute would have defeated my purposes. For the walls here were of an intricate Italian baroque style, with little windows, heads of satyrs, doorways, and sculpturesque mouldings. It was within such a frame that I was to represent the life of an age which had nothing to do with baroque refinements -- a new life which was characterized by masses, machines, and naked mechanical power. So I set to work consciously to over-power the ornamentation of the room.
I recommend her to you, not as a husband but as an enthusiastic admirer of her work, acid and tender, hard as steel and delicate and fine as a butterfly's wing, lovable as a beautiful smile, and as profound and cruel as the bitterness of life.
I've never believed in God, but I believe in Picasso.
July 13, 1954 was the most tragic day of my life. I had lost my beloved Frida forever. To late now I realized that the most wonderful part of my life had been my love for Frida.
Looking back upon my work today, I think the best I have done grew out of things deeply felt, the worst from a pride in mere talent.
Marx made theory... Lenin applied it with his sense of large-scale social organization... And Henry Ford made the work of the socialist state possible.
Never before had a woman put such agonizing poetry on canvas as Frida did.
Through her paintings, she breaks all the taboos of the woman's body and of female sexuality.

Diego Rivera discussing the qualities of his wife, Frida Kahlo
When art is true, it is one with nature. This is the secret of primitive art and also of the art of the masters — Michelangelo, Cézanne, Seurat and Renoir. The secret of my best work is that it is Mexican.
While working in California, I met William Valentiner and Edgar Richardson of the Detroit Institute of Arts. I mentioned a desire which I had to paint a series of murals about the industries of the United States, a series that would constitute a new kind of plastic poem, depicting in color and form the story of each industry and its division of labor. Dr. Valentiner was keenly interested, considering my idea a potential base for a new school of modern art in America, as related to the social structure of American life as the art of the Middle Ages had been related to medieval society.
You have to trust a TRUE compliment as much as a critique.
Quotes about Diego Rivera by Famous Artists and Art Historians
A government scholarship enabled Rivera to study art at the Academy of San Carlos in Mexico City from age 10, and a grant from the governor of Veracruz enabled him to continue his studies in Europe in 1907. He studied in Spain and in 1909 settled in Paris, where he became a friend of Pablo Picasso, Georges Braque, and other leading modern painters. About 1917 he abandoned the Cubist style in his own work and moved closer to the Post-Impressionism of Paul Cézanne, adopting a visual language of simplified forms and bold areas of colour.

Britannica.com/
Along with contemporaries like José Clemente Orozco and David Alfaro Siqueiros, Rivera stood out as one of the best-known proponents of Mexican Muralism, a state-sponsored movement aimed at extolling the nation's history, culture, and post-Revolutionary ideals in large-scale murals for public spaces. Using a centuries-old fresco technique, Rivera created sweeping mural cycles that drew upon modernist painting styles to render heroic visions of Mexico's past and present that captured the attention of critics and onlookers internationally.

MoMA
Mexican culture and history constituted the major themes and influence on Rivera's art. Rivera, who amassed an enormous collection of pre-Columbian artifacts, created panoramic portrayals of Mexican history and daily life, from its Mayan beginnings up to the Mexican Revolution and post-Revolutionary present, in a style largely indebted to pre-Columbian culture.

TheArtStory.org
Between 1922 and 1953, Rivera painted murals in, among other places, Mexico City, Chapingo, and Cuernavaca, Mexico; and San Francisco, Detroit, and New York City, United States. In 1931, a retrospective exhibition of his works was held at the Museum of Modern Art in New York; this was before he completed his 27-mural series known as Detroit Industry Murals.

Wikipedia
Known for numerous dalliances with women, Rivera married fellow artist Frida Kahlo in 1929. He already had been twice before he wed Kahlo, who was 20 years his junior and had several children from his past relationships. Rivera and Kahlo shared an interest in radical politics and Marxism.

Biography.com
Rivera had numerous marriages and children, including at least one natural daughter. His first child and only son died at the age of two. His third wife was fellow Mexican artist Frida Kahlo, with whom he had a volatile relationship that continued until her death. He was married a fifth time, to his agent

Wikipedia
A lifelong Marxist who belonged to the Mexican Communist Party and had important ties to the Soviet Union, Rivera is an exemplar of the socially committed artist. His art expressed his outspoken commitment to left-wing political causes, depicting such subjects as the Mexican peasantry, American workers, and revolutionary figures like Emiliano Zapata and Lenin. At times, his outspoken, uncompromising leftist politics collided with the wishes of wealthy patrons and aroused significant controversy that emanated inside and outside the art world.

TheArtStory.org