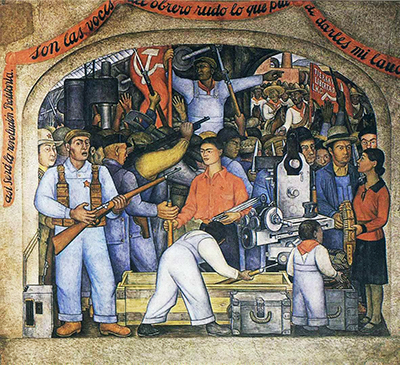 Buy Art Prints Now
from Amazon
* As an Amazon Associate, and partner with Google Adsense and Ezoic, I earn from qualifying purchases.
This fresco mural painting was created in Mexico, in 1928. The painter was Diego Rivera a larger than life character, who born in Mexico City. He became husband to fellow Mexican artist Frida Kahlo, in a volatile relationship.
Rivera was a renowned Mexican renaissance artist, who was among the principal members and founders of the Mexican Muralist movement. Rivera developed a painting style influenced by European modern masters and Mexico's pre-Columbian heritage, and delivered his art pieces in the form of Italian fresco painting.
The majority of Rivera's art work attempted to tell a story, often depicting Mexican society, the Mexican revolution, or reflecting his own political or social beliefs. 'The Arsenal' can be found in the Court of Fiestas, and is one of Rivera's most famous artworks, using striking colours to tell the story of the Mexican revolution.
The painting forms part the series, "Political views of the Mexican people." The Arsenal exhibits Diego's support of the Workers movement that took place throughout the century, and is based on a Corrido song written by Rivera called, "So will be the proletarian revolution." The words Corrido can be seen in the painting in the red band on the top.
In the painting Rivera goes to great lengths to feature several different, significant people as he transfers his political beliefs onto canvas. Rivera's wife, Frida Kahlo is in the centre of on the painting giving out weapons to revolution soldiers believed to be workers have decided to fight in the Agrarian revolution. Leon Trotsky, a Russian revolutionary who lived with Rivera for several months can be seen in the painting.
On the far left is David Alfaro Siqueiros, a Mexican social realist painter. On the right is Tina Modotti, an Italian photographer, actress, model and revolutionary political activist for the Comintern. Beside Modotti is her lover Julio Antonio Mella, a Cuban revolutionary who fought the Cuban dictator Machado.
Mella was murdered in the street, when out walking with Modotti. His wife was accused of hiring an assassin to kill Mella. It is said that Rivera used his influence to help Modotti escape any charges. Standing behind the couple, looking at Modotti, in a black hat is Vittorio Vidali a Stalinist agent. After Mella's murder Vidali later becomes her husband, and there are strong suggestions that Vidali was in fact Mella's murderer.