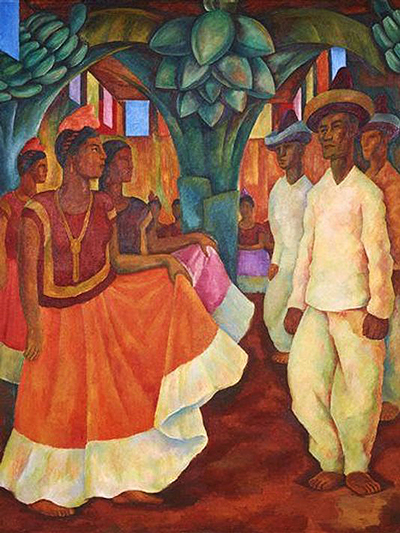 Buy Art Prints Now
from Amazon
* As an Amazon Associate, and partner with Google Adsense and Ezoic, I earn from qualifying purchases.
Diego Rivera's painting, the 'Dance in Tehuantepec' was completed in 1935. It is an oil on canvas painting in which the cubist style painter represents a tropical aesthetic of peasants dancers moving in calculated steps.
The 'Dance in Tehuantepec' is an art that has bodies, leaves, clothes, weight, and physicality. This painting is not 'realistic', but it represents a particular place and time. It is easy to imagine yourself sipping a beer at the Tehuantepec bar while dancers express themselves. The paintings original size is (48.1 x 60.64 cm) or 18 15/16 x 23 7/8. You can view the painting in the Los Angeles Museum of Art.
The painting portrays a group of dancers. Rivera used bright colours to create a festive mood in the average life of the Mexican people. According to Rivera, his mission was to reproduce the essential fundamental images of Mexico. He desired to reflect the social life of Mexico and create a vision of how the future was going to be.
Rivera created a well-distributed painting of the dance. On the left side are three ladies on the foreground who are looking at their male dancing partners on the dance floor. The ladies are in their traditional Mexican attire. They are long dresses that are dull coloured at the top with cream strips at the bottom. The ladies also have ornaments around their neck and on their heads. The gents are also in a uniform cream-coloured outfit, with coloured hats. The ladies and gents are seen taking part in a well-choreographed dance that was part of the culture at the time. During the dance, people would take off their shoes and dance.
At the background, there is an audience who are witnessing the dance. The room also has square coloured pieces of clothes hanging down the ceiling. People used to decorate their homes and social places with clothing. At the centre of the painting, there is a pillar and a bunch of dark coloured green fruits. At the left-top side, there is also a bunch of bananas that signify the productivity of the land.