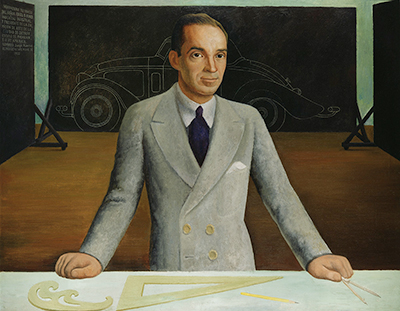 Buy Art Prints Now
from Amazon
* As an Amazon Associate, and partner with Google Adsense and Ezoic, I earn from qualifying purchases.
Edsel Ford was the main sponsor for Rivera's extraordinary Detroit Industry murals and in 1932 he took a short break from the project in order to complete this charming portrait. It now resides within the Detroit Institute of Arts as the city looks to protect and celebrate its cultural past.
Edsel stands in front of us here looking particularly smart, in a tight fitting light grey suit with white flourish around the pocket. Underneath is a white or light blue shirt and a wide black tie. His hands are outstretched, lent on a table in front of him and across the table are a series of design and engineering tools which are designed to help us understand the role of this famous individual, even though many would be able to identify on his appearance alone. He looks calm and confident, staring just to our right hand side. He stands in a large open room, which gives another indication of his importance. At the back the room comes to an end, with a few items placed around the background. One can imagine this being perhaps a boardroom in which key decisions are made, with Ford's pose being of someone very much in charge and leading the decision making personally (in fact, research has suggested that actually the subject specifically chose to be painted in this room, which is actually a design studio). By the time of this painting artist and model would have been very well known to each other and so Rivera could use this knowledge to correctly portray Ford in a manner which reflected his real personality.
The painting itself is 97.8cm by 125.1cm, not including the small frame around it. It is believed to have been bequethed to the institute by Eleanor Clay Ford, suggesting that it was Edsel who commissioned the piece and then handed it on through the family before it eventually landed it the collection of the Detroit Institute of Arts. Rivera would have been in his mid-forties at the time of this painting and had already travelled to many countries within his lifetime, taking in a great wealth of knowledge about western culture which he could then use in combination with his Mexican roots to produce a unique body of work.
With its connection to Edsel Ford and Detroit Industry, it is entirely right that this painting today resides at the Detroit Institute of Arts. They have an impressive selection of work held permanently here which covers both local and national artists, with Europeans also featured in good numbers as well. The Wedding Dance by Pieter Bruegel is one of the favourite items on display here, as well as Nocturne in Black and Gold – The Falling Rocket by James Whistler and also Portrait of the Postman Joseph Roulin by Vincent van Gogh. In all there is plenty of variety to interest most tastes, with a main focus on western art, though that is starting to change as they add a more diverse set of items into their collection every year. There are also regular exhibitions which help to freshen up the display and these tend to run for several months at a time.