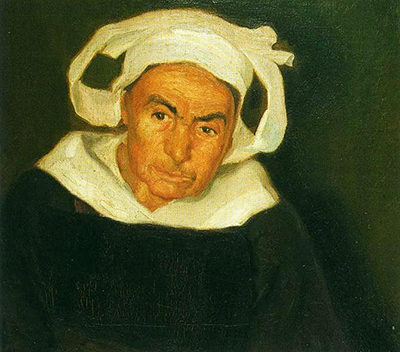 Buy Art Prints Now
from Amazon
* As an Amazon Associate, and partner with Google Adsense and Ezoic, I earn from qualifying purchases.
This portrait was completed by Diego Rivera in 1910. He descriptively named it simply, Head of a Breton Woman. Many artists had found inspiration in the lives of ordinary people living in this French province and Rivera would do the same whilst living in Europe for an extended period.
We find here a middle age or elderly woman looking off to our right whilst dressed in traditional clothing. She may well have been a part of the working poor section of society which would carry out physically tiring tasks in rural France. Her face bears the hallmarks of such work, with a bright complexion damaged by years of working in direct sunlight as well as the toil of carrying heavy items around on a daily basis. Rivera would capture the lives of local Mexicans in a similar manner, but his European based ones would be darker in tone and lacked the same vibrancy that he found at home. He therefore reflected a less positive outlook on the lives of those in Breton, though was always complementary in how he depicted his models and displayed a clear sympathy and empathy in their plight. He remained very much a man of the people, reflecting his strong socialist values which were commonly held across Mexico at this time. He moved across to Europe to escape political issues in Mexico and used the time wisely, drawing in all manner of new artistic influences as well as learning more about European culture itself.
This particular painting is listed as being 141cm wide by 129cm tall, which is a slightly unusual shape for a portrait. The work is categorised within the movement of Social Realism, a style in which Diego Rivera would perhaps become the most famous contributor. He simplifies the palette here to tones of white and black, with no background included at all. It sets a mood of harshness and discomfort, where this ageing woman is still having to work hard just to get the most basic of life's essentials. Her black cloak disappears into the background behind, leaving only her white neckline and head cover visible. Her face is a heavily tanned orange tone, with thick creases across her skin which were presumably caused by a combination of age and also the stresses and strains of life. Her expression signifies acceptance of this situation, perhaps because it is all she has ever known, and all she had ever expected from life. One can contrast this to other parts of France, where bright light can saturate a canvas and provide a mood more similar to Rivera's work in Mexico.
It is paintings such as Head of a Breton Woman which perfectly illustrate the versatility of this artist. He is most famous for his bright scenes of peasant life in Mexico, such as The Flower Carrier and Vendedora de Flores (Flower Vendor), but actually he travelled around the world across his lifetime and was able to master many European-inspired styles too. He released a number of Cubist artworks, for example, just after this portrait was completed and continued to experiment even after he returned to Mexico. Later on he would work within the US and receive some highly prized commissions there to, marking him out as a truly international artist who could impress art followers from different countries and cultures. This portrait may be less famous, but offers an important insight into the influence of Europe upon some of his work.