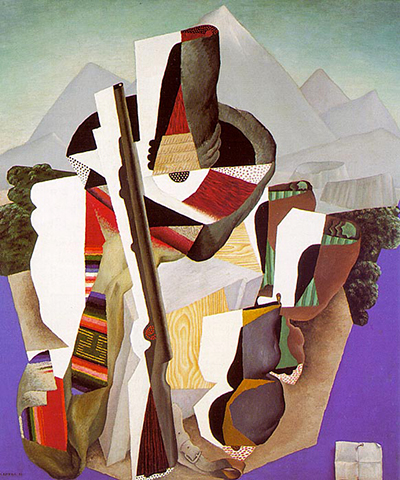 Buy Art Prints Now
from Amazon
* As an Amazon Associate, and partner with Google Adsense and Ezoic, I earn from qualifying purchases.
Diego Rivera painted his masterpiece Zapatista Landscape in 1915. In this period, he described the art piece as an accurate representation of the Mexican mood.
The Zapatista painting includes a sombrero, a serape, a cartridge belt, a rifle, mountains of Mexico, and a wooden ammunition box. The object at the centre floats as its planes overlap excitingly. The shadow of the gun is coloured white, the reds in the painting have a distinct hue of red, the blues are luxuriously represented, in the same way, they are in Mexico.
The sombrero has a mask that is in a shape that suggests an all-seeing eye. This 'all-seeing' eye looks at the viewers, asking them to identify the face in the painting. This painting is as elusive as a Zapatista.
On the left and right side of the painting, there are green clumps of trees densely populated. Dark viridian green is used to paint the trees over the black colour. On the lower-right corner, there is a blank paper pinned on the blue background by a nail. The piece of paper is painted skillfully in a trompe-l'oeil manner. This piece of paper represents a manifesto that dates back thousands of years in Mexico. After painting Zapatista, Rivera, the cubists painted other handsome art pieces, although he never surpassed creating another work of art like the Zapatista.
Through this painting, he made it clear that he was one of the most successful cubist painters. Rivera's popularity made him become a force in the theoretical debates in wartime Paris.
Rivera painted the Zapatista in Paris when there was a bloody conflict in the Mexican revolution. Although the painting was not famous during its time, it brought about a revolutionary reading a decade later. The title of the art is about Emiliano Zapata, a celebrated guerrilla force peasant and his followers.
Now, the title Zapatista Landscape appeared at a later date, it is hard to say if Rivera was thinking of Zapata in 1915. There is a possibility that he was thinking of a general peasant from his home. Either way, the visual references to Mexico were distinctly and purposefully represented through cubism on the canvas. You can see the Zapatista Landscape painting in Los Angeles, where people can view it in the context of his post-Revolutionary work, and in his cubist period.