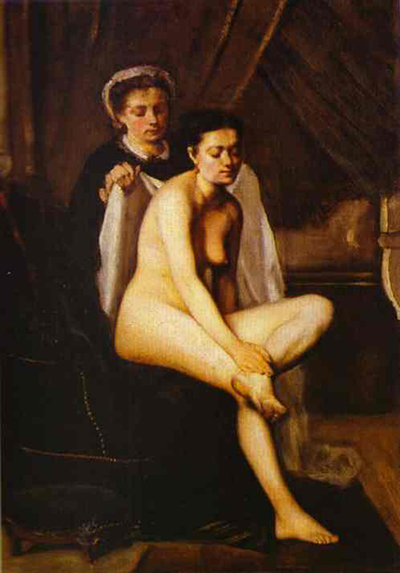 Buy Art Prints Now
from Amazon
* As an Amazon Associate, and partner with Google Adsense and Ezoic, I earn from qualifying purchases.
After the Bath was painted in 1870 by the French impressionist artist Frederic Bazille. It is an oil on canvas that is presently in private hands. After the Bath is a classic example of Bazille's interest in figure painting, that is, a painting where the primary subject is a person.
Bazille's After the Bath, which features a nude young woman, seated, being towelled dry by a maid is fairly typical of Bazille's work during his short life. Frederic Bazille, who was destined to become a doctor, was sidetracked by art during his medical training. He was heavily influenced at the time by Eugène Delacroix, a leader in the French romantic school of art. Bazille proved an indifferent medical student and dropped his studies altogether in 1864 to concentrate on painting. He was at the time in close association with prominant French artists Claude Monet, Alfred Sisley, and Edouard Manet. It is not unreasonable to assume that Bazille was heavily influenced by these men who went on to be regarded as giants amongst impressionists.
Bazille was only in his late twenties when he painted After the Dark. The painting is a classic impressionist work. It is highly realistic. Accuracy of depiction is one of the trademarks of the impressionist school. Both the maid and the woman's face are accentuated, detail like the maid's fingers and the undersole of the woman's exposed right foot is recorded. A viewer notes the detail in the maid's cap, the ornate footstool, the nude woman's areola, and can almost visualise the weave in the white tool.
To an extent this detail of composition is a function of the light as much as Bazille's attention to detail. Impressionists like Frederic Bazille make good use of light and in After the Bath the nude woman is bathed in a warm glow of light while the background room itself is quite dark. The maid is dressed in black. With the exception of her face and hands, she almost disappears into the painting. The floor is pooled with light, causing the floorboards to look warm and inviting, much as the woman appears after her bath. The subject matter itself is very ordinary. It's a quiet, private, intimate, domestic situation. Drying after a bath is something everyone does everyday. Again, it's classic impressionism to utilise such an ordinary subject.