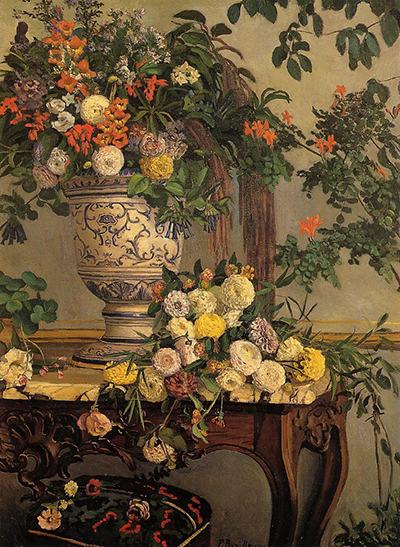 Buy Art Prints Now
from Amazon
* As an Amazon Associate, and partner with Google Adsense and Ezoic, I earn from qualifying purchases.
Rendered in oils, Flowers is one of Frederic Bazille's most important works. Born in 1847 in Montpellier, France, Bazille grew up to develop a keen fascination with art. He was especially drawn to the work of the Impressionists, adopting an impressionistc style for himself.
It was originally intended that the young Frederic Bazille should become a doctor; after failing medical school, however, Bazille began to paint full-time. Bazille developed a unique style, with elements of Impressionism but also of other schools. Flowers exemplifies this. It is a work in the Impressionist school but possesed of a level of detail and realism that's sometimes absent from other works in the same school. Every species of flower is identifiable, rendered in lively but careful strokes.
It's interesting to contrast Flowers with some of Bazille's other works. His earlier work, The Pink Dress (1864) embodies a lightness and freshness that's echoed in Flowers; however, while The Pink Dress is a sweeping outdoor scene filled with sunlight, Flowers seems almost claustrophobic. The brilliant colours of the flowers, the crisp blue and white of the vase and the light wall in the background all seem somewhat subdued, and the composition, while lovely, creates a sense of confinement. It's also interesting to compare Flowers with Bazille's work from around the same time - in particular the dark chiaroscuro effect we see in his Portrait of Edmond Maître, 1869 (and even more strongly in the Portrait of Paul Verlaine, 1868). Bazille's use of colour is powerful yet subdued, with strong shades tempered by his choice of lighting.
The majority of Balzille's most important works were painted in his middle twenties. His developing style promised fascinating development later in life; for example, we might consider 1870's Young Woman with Peonies, which draws together both the freshness and lightness of his earlier works and the strong light-and-shadow contrasts seen in the Portrait of Paul Verlaine. Sadly, we will never know how Bazille's visual style might have developed. He died in the Franco-Prussian war at the young age of twenty-eight, leaving behind a body of work that continues to exercise a fascination over the art world to this day.