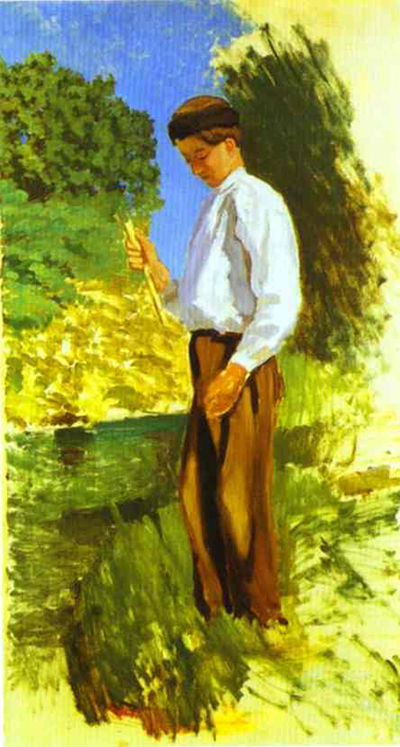 Buy Art Prints Now
from Amazon
* As an Amazon Associate, and partner with Google Adsense and Ezoic, I earn from qualifying purchases.
Louis Auriol Fishing by Frederic Bazille is a private art collection painted during the era of impression. The impression is a 19th-century form of painting that featured artists using small and light stroke brushes to make their paintings. Although it's taken next to a fish pond, this piece of art is considered to be a portrait.
This is majorly because the sketch exhibits the characteristics of a picture, which is a solid background and a single character. The painting was made in 1870 on canvas with the paint itself in the form of oil. Also, multiple versions of the painting have been made. As a result, you can notice the difference between the original version and the moded copies due to the different colors used and a change in brush strokes by various artists.
Capturing the focus of everyone is the character Louis Auriol, who is in his pants and a long sleeved t-shirt. The figure is looking into the water and while holding a fishing rod. Also, the posture to which he is standing is suggesting to as that he is yet to make a cat out of his hunt. This is because his left hand is almost relaxed by his pocket. The character is well groomed and can be thought of as a neat person. Lastly, his hair is neatly done and well styled. Furthermore, we can also depict that he is from France because of his hairstyle and name.
The artist has a good mastery of his environment. This is because he has a beautiful blend of the colors green and yellow combined to come to bring out the pond environment. Also, he uses his brush well to show the trees and bushes around the character clearly. Furthermore, we can quickly tell that the painting was made during a sunny bright day. This is because we can see a reflection of the tree on the water. Furthermore, the amount of light on the painting suggests that it was day time.
As a master, the artist can use the reflection technique and enable us to tell the difference between the ground and the water. To supplement this, the artist paints thick grasses that have over-grown at the edge of the pons and the land. Lastly, the use of a clear blue sky suggests that it was summer at the time of painting.