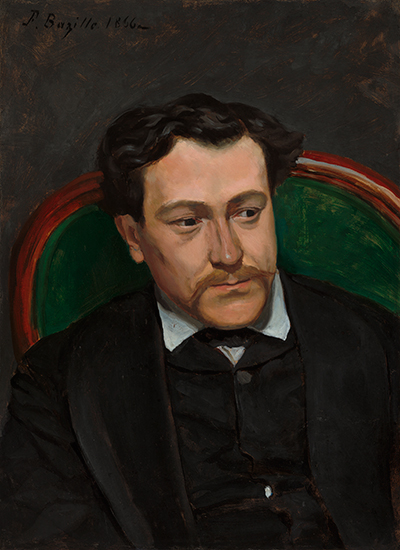 Buy Art Prints Now
from Amazon
* As an Amazon Associate, and partner with Google Adsense and Ezoic, I earn from qualifying purchases.
Frederic Bazille did the Portrait of Édouard Blau in 1866. The art is beautiful, and it was well received in the industry. The art is so clear that one can easily tell that the person is in the painting is Édouard Blau. Édouard is wearing a full black suit, a white shirt but only the collars are visible, and a black bowtie.
The painting is of the portrait genre and was made with the impressionism style. Bazille was an expert at showcasing the impressionism style that many people called the youth of impressionism. Édouard Blau was a French dramatist and opera librettist, and thus his work was highly appreciated in the art industry. He was an expert in theoretical writing. Therefore, Bazille thought it would be nice to paint him as a way of honoring his art skills.
Portrait of Édouard Blau was one of the best portraits done by Bazille. The other portraits that he released were Portrait of Renoir in 1867, Portrait of Paul Verlaine, 1868, Portrait of Edmond Maître in 1869, and his self-portrait 1865–1866. Therefore, he loved painting people, and thus, the Portrait of Édouard Blau was a special painting. The dimension of the painting is 59.5 x 43.2 cm, but when it is framed, its size is 69.5 x 53 x 5.1 cm. The medium of the art is oil on canvas.
Portrait of Édouard Blau was worth checking out that when he released it, very many people were interested to see how he had brought out his art skills in the picture. Édouard Blau appreciated the art. The art was made using high-end materials, which were high-quality oil paints and artist grade canvas. The brushstrokes in the painting are perfect that no colour went out of place. The whole art industry wanted to try portraits after the Portrait of Édouard Blau. Bazille was happy about the reception, and that is why he did the other portraits after 1866.
Frederic Bazille started having a passion for art at an early age after seeing the works of Eugène Delacroix, a French romantic artist. When he moved to Paris in 1869 to continue with his medical studies, he met Pierre-Auguste Renoir and Alfred Sisley who loved the impressionist style. Bazille loved impressionism after going through their work. Therefore, he started taking classes, which helped him release high-quality drawings, including the Portrait of Édouard Blau. The Portrait of Édouard Blau can be found at the National Gallery of Art, Washington, DC, USA, but is also available for sale.