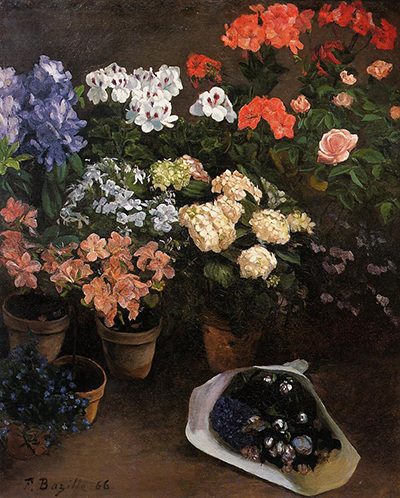 Buy Art Prints Now
from Amazon
* As an Amazon Associate, and partner with Google Adsense and Ezoic, I earn from qualifying purchases.
Study of Flowers by Frederic Bazille which was released in 1866 is one of the most celebrated works of the artist. The art is a flower painting with the style of impressionism. His close friends Courbet, Manet, Fantin-Latour, Monet, and Renoir, had started doing flower paintings and they had turned it into a commercial business.
They used to paint beautiful paintings and sell them to interested buyers in Paris. Bazille was interested, and thus, he decided to start painting flowers. He had gathered enough knowledge about flowers from the botanical garden, which was adjacent to his Medical faculty. Study of Flowers is a painting that Bazille was proud of because of the way he managed to showcase all the flowers in one beautiful art. The art depicts different types of flowers in pots and a bouquet on the floor. The different colours of the flowers make the painting even more attractive. Study of Flowers was a challenge that Bazille was trying to face. He wanted to go out of his comfort zone, which was landscape painting and painting people.
Bazille wanted to come up with a unique art which would help him improve in his art. The dimension of the Study of Flowers is 98 x 88 cm, and its medium is oil on canvas. The materials used for the painting were museum quality acid-free, heavyweight archival canvas and fade-resistant, archival inks. These materials make the art to be of high-quality. The flowers in the art are rich in colour, and they showcase the diversity in our gardens. The bouquet on the floor added an important detail in the art to depict how you can arrange the flowers in the garden and gift it to someone. Therefore, the painting expresses the richness of flower gardens and how it can be used to show love.
The works of Eugène Delacroix inspired Frederic Bazille at an early age. Therefore, he asked his family if he can study painting, and they allowed him, but he combined it with his study of medicine. He moved to Paris to continue with his studies. In Paris, he made friends such as Claude Monet, Alfred Sisley, and Édouard Manet who were also artists. He loved the work of his friend, and they inspired him to improve his art skills. Study of Flowers was inspired by these friends who were into flower painting. Study of Flowers can be found at Musee d'Orsay, but it is also available for sale throughout the world.