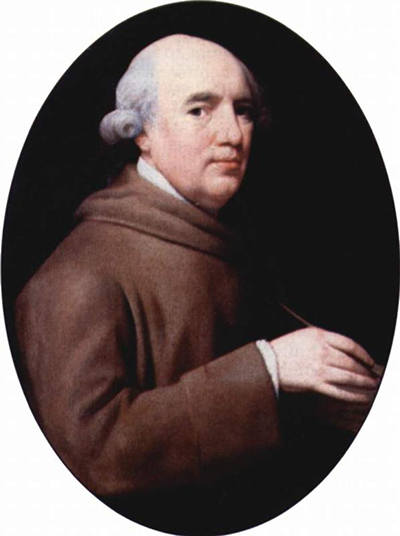 Buy Art Prints Now
from Amazon
* As an Amazon Associate, and partner with Google Adsense and Ezoic, I earn from qualifying purchases.
George Stubbs was born in 1724 in Liverpool. Stubbs worked in his father's trade, leather-dressing, from a young age, and this early experience may have ignited his interest in the animal form
At around 16 he decided he wanted to be a painter, and his father reluctantly accepted this choice after some time. Stubbs was then briefly mentored by Hamlet Winstanley, a painter and engraver in Lancashire.
This apprenticeship was however quite short lived — ending due to conflict over which pictures Stubbs would be allowed to practice copying. Stubbs was from then on largely self-taught, and the following period of his life has had very little biographical preservation.
Following his early interest in anatomy, Stubbs moved to York to study under experts in the field. From 1745 to 1753 he worked at York County Hospital, studying anatomy under Charles Atkinson, a surgeon, and simultaneously preparing medical illustrations for Dr John Burton.
These illustrations, released in the textbook Essay towards a Complete New System of Midwifery, comprised his first professional artistic work, and so marked the beginning of a career defined by the meticulous portrayal of animal subjects.
After a brief visit to Italy — which convinced him of the aesthetic superiority of nature over human art — he moved to Horkstow, Lincolnshire.
Here he began to focus on the anatomy of horses, which would become his most prominent lifelong subject. Stubbs received and dissected multiple dead horses, hoisting and engraving them with the help of his common-law wife Mary Spencer. After this 18 month period, he moved to London in around 1759, publishing his breakout work The Anatomy of the Horse in 1766.
This work, appreciated by aristocrats for the care with which the natural figure of the horse was portrayed, led to commissions from nobility — particularly those in the (then newly established) Jockey Club. While prior artists had focused on horses in the past, such as James Seymour and Peter Tillemans, Stubbs' work was seen as having achieved a new level of realism.
Many leading figures approached Stubbs to have their prized horses captured on canvas while in their prime. The 3rd Duke of Richmond had 3 large paintings produced by Stubbs, which were well received. In a short period of time he had earned enough from the commissions of various lords and dukes to buy a house in Marylebone, a prominent part of London, where he remained for the rest of his life.
He produced what is probably his most famous work, Whistlejacket, for the 2nd Marquess of Rockingham, in around 1762.
He continued to accept commissions of horses throughout the 1760s, and while Stubbs is primarily known for his masterful portrayal of these animals he also began to paint portraits of people, as well as exotic African animals including lions, tigers and monkeys.
The backgrounds of his works also demonstrate his extensive ability, often featuring the large manors and estates of the noble patrons for whom he painted.
His 1772 painting of a kangaroo would have been the first exposure many Britons had to the animal, then seen as very unusual. It is probably the only work of his — along with the accompanying painting of a dingo — for which he did not have a live subject to paint from.
Engravings of these works and many others by Stubbs, prized both for their artistry and their anatomy, were increasingly reproduced and circulated widely in the 1770s and 1780s.
While many of his illustrations take a more gentle and elegant approach to their animal subjects, Stubbs did not limit himself exclusively to portrayals of this kind, and his 1786 painting of two bulls fighting shows that he had an understanding of the brutality and aggression which can also be sighted in the natural world.
Another visceral image — that of a horse being attacked by a lion — became somewhat of a favourite of his, and he produced a number of works which focus on this theme.
Like many artists, he also tried his hand at painting historical events, but these enjoyed far less popularity in comparison to his paintings of animal subjects, and so he continued to focus primarily on the latter domain.
In the 1770s he began to increasingly produce works of hounds and foxhunts, another passion of many aristocratic figures at the time. Perhaps the apex of his professional career came in the 1790s when he was commissioned by the Prince of Wales, George IV, and painted him on horseback.
Stubbs died at the then ripe old age of 81 in 1806, and left his final work on anatomy — one comparing human anatomy with that of various animals — only partially complete. He had a son by Mary Spencer, George Townly Stubbs (1756-1815), who followed in the footsteps of his father and was employed as a printmaker and engraver.
His works have since dispersed to Galleries and Museums throughout Britain, and are included in the National Gallery in London, the Greenwich National Maritime Museum, The National Museums in Liverpool, and the collection of the British Royal Family, among others.
Today George Stubbs is recognized as the preeminent painter of horses in British art, widely celebrated for his genius and care in illustrating the animals.
His work has received continual attention both artistically and at auction, and a painting of his from 1765 fetched £22.4 million in 2011. His everlasting appreciation is owed to both his choice of subject matter and his ability to render it, as the animal world remains a preoccupation of many art lovers and connoisseurs in the contemporary day and age.