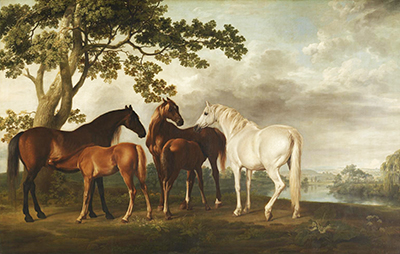 Buy Art Prints Now
from Amazon
* As an Amazon Associate, and partner with Google Adsense and Ezoic, I earn from qualifying purchases.
Mares and Foals in a River Landscape painting is part of artwork produced between 1760 and 1769 for aristocratic patrons. George Stubbs was famous for creating portraits for mares known for their racing success.
The artist first painted the horses in great detail then, stretched them across a plain background before including the landscape in the background. The result was a complex composition of the subjects, which demonstrated Stubb's dexterity in classical principles. Again, the painting depicts an artistic form that provides a balance and symmetry to the entire group. George includes a feeding foal in the picture to ensure the spectator's eye is drawn to the mares on a slow rhythm.
Stubbs was known for his careful observation of animals hence, the notable use of detail when creating this piece. He had studied The Anatomy of the Horse book, which also contributed to his skillfulness in painting horses. The artist's work was also influenced by naturalism, a movement that encouraged painters to represent subjects more realistically. Prior to this movement, landscape and human figures in art were idealised due to conventions derived from the classical tradition. Naturalism, on the other hand, advocated for a representation of the way things are. It explains why Stubb drew life-like subjects, in this case, the mares.
It is believed that George Stubbs adapted this piece from the Mares and Foals without a background created in 1762 but with the omission of two mares and a modified pose of the horse on the far right. As for the arrangement of the mares, George borrowed the idea from engravings created by Collaert and others. The pieces give a picture of animals on the foreground against plain backgrounds.
The Mares and Foals in a River Landscape painting was first displayed at the Royal Academy and Society of Artists along with other pictures displaying mares and foals. It created an excellent opportunity for distinguished public figures and patrons to commission such paintings whether they reared mares or not. Viscount Midleton is believed to have commissioned this painting, though his mares are not included in the picture. He used the painting as an overdoor hanging along with two other pictures created by Stubbs. The ornamental use of the painting prompted commissions from other individuals like Lord Rockingham. The painting was, however, different from Viscount's painting as George drew Rockingham's horses and used a different colour palette.