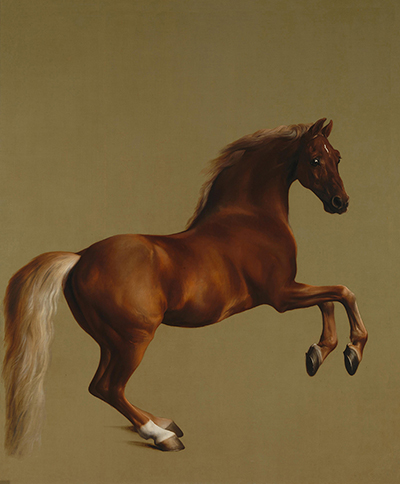 Buy Art Prints Now
from Amazon
* As an Amazon Associate, and partner with Google Adsense and Ezoic, I earn from qualifying purchases.
George Stubbs' finest work, Whistlejacket, combines all of the technical skills that set his career apart
This was the pinnacle of his horse paintings, having studied the art for so many years. No other artists have become as famous for portraying animals as Stubbs, although other prominent names include Picasso and Durer.
Whistlejacket, painted in 1762 by George Stubbs using oils on canvas, is breathtaking in its scale.
The horse is life size in a painting that is 115 inches by 97 inches and can be seen from as far away as ten galleries in the National Gallery where it hangs.
Whistlejacket isn't some idealised product of Stubbs imagination. This is an intimate portrait of a real animal, an Arabian chestnut thoroughbred, in just the same way as contemporaries of Stubbs, such as Joshua Reynolds, or Thomas Gainsborough, strived to achieve a likeness as close as possible to the portraits of whichever members of the aristocracy they were commissioned to paint.
The horse dominates what is otherwise a canvas without background; unlike many of Stubbs' other paintings of horses, there is no human here.
This was unusual, though not unprecedented, because Stubbs had produced a smaller painting of Whistlejacket with two other stallions for the same patron. Opinions from Stubbs' contemporaries, that the painting was unfinished did circulate.
There was even a rumour that in addition to the background being unfinished, it also lacked its rider, King George III, both of which might be added at a later date by other artists. These stories have been discredited by modern authorities.
In his rendition of Whistlejacket, Stubbs has captured not just the physical details of the horse, its musculature, throbbing veins in its rear thigh, the white blaze on its forehead and the white band around its right lower leg, he has captured its individuality and its spirit.
The viewer is left in no doubt, this truly beautiful animal, has enormous character, he is graceful and yet strong. These features jump out from the neutral background of the painting, abetted by the artist, who has used some very subtle shadowing to draw the eye to what he wants the viewer to see.
From a distance, Whistlejacket appears very naturalistic; Stubbs has clearly opted for a high degree of realism, the browns and tans contrasting sharply with the background. Closer up, the edges are not as sharp and the blurring, creates, intentionally or not, a sense of movement. Brush work on the horses flank is loose, almost abstract in its execution.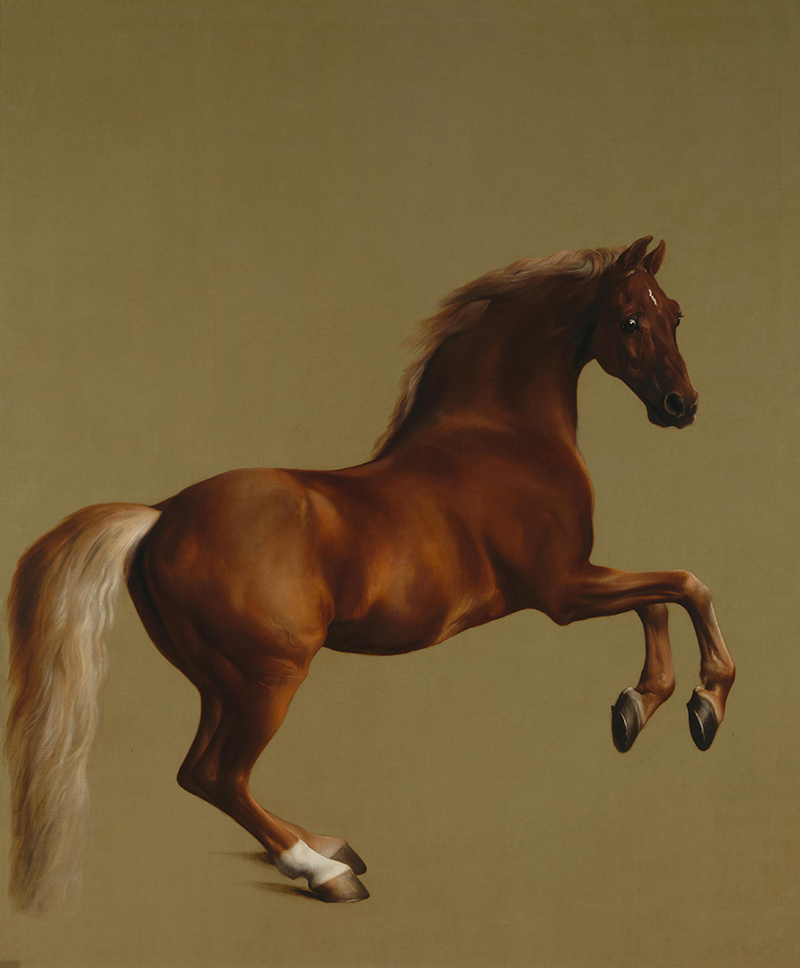 Levade is the particular stance that Whistlejacket is working to achieve. This is a trained stance in which the horse tries to hold a position 30 to 35 degrees from the ground. Achieving Levade takes great equilibrium and strength, especially in the back legs which carry most of the weight. Stubbs captures both the tension and the energy expended.
The horses head is turned to the viewer, its eye looking out of the canvas. In this it is redolent of earlier, large equestrian paintings by Peter Paul Rubens and Diego Velazquez.
Some observers have also seen an allergy related to Britain's constitutional history. Personally, I think they may be reading a little too deeply into things. Nevertheless it is an interesting theory. A comparison needs to be made between Whistlejacket and Anthony van Dyck's painting of 1638, Charles I on Horseback.
In that work, the horse standards obedient, the monarch, clearly in absolute control. Whistlejacket is without rider, let alone a monarch. The conclusion drawn being that, whilst Britain by the mid-Eighteenth Century may still have a monarch, it will never again hold the reins of power; like the horse, the people will remain free.
We return again to the format. Whistlejacket had been a racehorse of some note, however, by the time of this painting, he had been out to stud for ten years.
So many of Stubbs paintings of racehorses are quite static, displaying the animal with its jockey, trainer or owner. Whistlejacket is entirely different, a painting for posterity, a study in individuality of the subject unbridled and unfettered by the accoutrements of its former life as a racehorse, such as a saddle or a bridle, he is free and majestic.
In 1762, Charles Watson-Wentworth, the second Marquess of Rockingham, was one of the richest men in England. Rockingham invited Stubbs to his country home, Wentworth-Woodhouse, in Yorkshire to see his collection of horses and do some painting.
The house at Wentworth-Woodhouse, is huge, even by Eighteenth Century standards; it has the longest façade of any residential property in Europe. It's was here in the imposing stable block, an architectural wonder in itself, that Rockingham kept his 200 horses, including the subject of our painting.
The Marquees, a member of the British nobility, racehorse owner and gambler was also a prominent member of the Whig party and served two terms as British prime minister. Like many young noblemen of the time Charles Watson-Wentworth did the grand tour, taking in all the major European cities, their museums, galleries and other works of art.
Some critics have seen in Whistlejacket, similarities with classical friezes, such as the Parthenon Marbles, and postulated that the idea for the format of the painting came from the Marquess who was trying to recreate something of what he had seen on his travels. This, combined with Stubbs own unique talent, created a work of art with universal appeal.
Of course we will never know. Stubbs' time at Wentworth-Woodhouse resulted in several other equestrian paintings, groups mainly and one entitled, A Lion Attacking a Horse. An invoice has been found for a painting referred to as A Horse as Large as Life, a reference to Whistlejacket, for which the Marquess paid 40 guineas.
What of Whistlejacket himself? He was born in 1749 at Belsay Castle Northumberland, the home of his owner, the third baronet, Sir William Middleton. The horse was named after a cold remedy of gin and treacle which was popular at the time. Whistlejacket had an excellent pedigree that could be traced back to one of the first three Arabian stallions. He was sired by Mogul and his grandsire was Godolphin Arabian. His dam was a relative of Byerly Turk.
As a racehorse, although he only lost 4 times in his career, his fame didn't reach the heights of some of his contemporaries, such as Gimcrack, also painted by Stubbs. Although, it was referenced in the popular culture of the time when a character in Oliver Goldsmith's famous play, She Stoops to Conquer, says, "I have got you a pair of horses that will fly like Whistlejacket."
Whistlejacket's most famous win was the 4 miles race at York in 1759, which had a purse of £2,000. Reports exist of the horse being difficult to control and temperamental and it was shortly after the York win the decision was made to retire him from racing and put him out to stud. The year of Whistlejacket's death is not known.
However, as no mention is made of him following Rockingham death in 1782, it is most likely, having lived for around thirty plus years, he predeceased his owner.
Rockingham died without having had children, his estate passed to the Fitzwilliam family and the earl hung the panting in its own room alongside portraits of the family by Reynolds and Sir Thomas Lawrence. In the early 1970s the painting was loaned to Kenwood House, followed by The Tate in the mid-1980s.
It finally arrived at the National Gallery in 1996 and £11m was raised through the Heritage Lottery Fund to buy the painting the following year and preserve it for the nation. It stands out as a true British masterpiece, not just of Eighteenth Century equestrian painting, for it is timeless and could have been painted yesterday, and it can stand shoulder to shoulder with the best from any era.
Today it is on display in room 34, the frame of the painting, framed by the doorway of the gallery, the first thing people see when they approach from that direction. It remains as popular as ever, often eliciting exclamations of awe from those who go to see this stunning work of art.