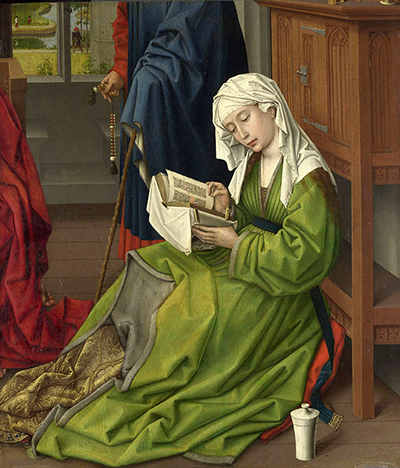 Buy Art Prints Now
from Amazon
* As an Amazon Associate, and partner with Google Adsense and Ezoic, I earn from qualifying purchases.
Whilst aiming to draw together all quotes attributed to the Netherlandish master, Rogier van der Weyden, we must accept that his entire career is shrouded in discussion, controversy and lost documentation.
It has taken considerable research and scientific experiments just to be able to attribute as many paintings to this artist as we now can. For many years it was virtually impossible to distinguish his work from his studio's plus several other notable artists from that time. Some centuries ago, we could not attribute a single painting to him but recent advancements have enabled us to draw out works from this Netherlandish era and confidently link them to his hand.
The artist's prominence has ensured that we do know a little about his personality, but sadly not much. Specific quotations from his life are even harder to find, with most relevant content being from a third-party source. In terms of discovering his own influences as an artist, Jan van Eyck clearly was significant - we do not have much to prove this in terms of written or spoken word, but the style of his work is enough evidence by itself.
With the amount of his work that has been lost over the years, it is possible that literature around his life has also gone missing. That said, even the much more studied Van Eyck has very few quotes attributed to him so perhaps we should not be surprised that this is the case for Rogier van der Weyden too.
Quotes Attributed to Rogier van der Weyden
None currently available.
Quotes about Rogier van der Weyden by Art Historians and Famous Artists
For several centuries this artist was considered superior to his long time inspiration - Jan van Eyck. Whilst that is not the same today, he is still seen as an important member of the Netherlandish group of artists and someone whose style was unique during this period in terms of colour and expression. We have included several significant quotes about his life and career below.
Rogier van der Weyden was one of the most profound and influential painters of the 15th century. He was internationally famed for the naturalism of his detail and his expressive pathos. He created a range of types - for portraits and for religious subjects - which were repeated throughout the Netherlands, the Iberian peninsula, and even Italy, until the mid-16th century.

The National Gallery, London, UK
Rogier van der Weyden, original name Rogier de la Pasture, (born 1399/1400, Tournai [Belgium]—died June 18, 1464, Brussels), Northern Renaissance painter who, with the possible exception of Jan van Eyck, was the most influential northern European artist of his time. Though most of his work was religious, he produced secular paintings (now lost) and some sensitive portraits.

Encyclopaedia Britannica
Hans Memling was his greatest follower, although it is not proven that he studied under Rogier. Van der Weyden had also a large influence on the German painter and engraver Martin Schongauer whose prints were distributed all over Europe from the last decades of the 15th century. Indirectly Schongauer's prints helped to disseminate van der Weyden's style. Delenda writes that, with the exception of Petrus Christus who was a disciple of Jan van Eyck, traces of Rogier van der Weyden's art can be found in all fifteenth century artists, to varying degrees.

Wikipedia