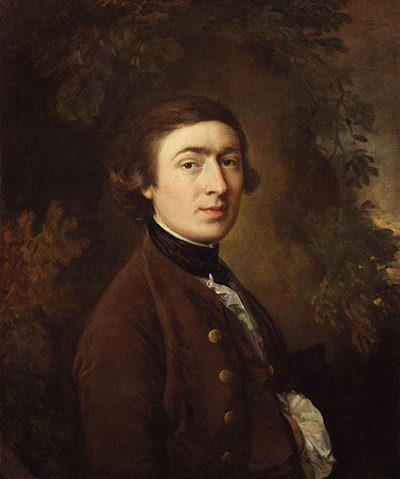 Buy Art Prints Now
from Amazon
* As an Amazon Associate, and partner with Google Adsense and Ezoic, I earn from qualifying purchases.
Thomas Gainsborough, born in May 1727, was a renowned master of painting in Britain in the 18th century. He was particularly famous for his portraits
His most famous portrait is known as the Blue Boy. He was born in Sudbury, Suffolk and his father, John Gainsborough, was a cloth merchant. Thomas exhibited artistic skill at a tender age and was sent to an art school in London the age of 13.
Under the guidance of a French engraver Hubert Gravelot, he studied drawing and etching. Prior to training Gainsborough in London, Gravelot had been under the tutelage of the great French painter Jean-Antoine Watteau. Watteau's later had a tremendous influence on Gainsborough's art.
Gainsborough got a chance to associate with English painters William Hogarth and Francis Hayman while in London. Though these painters had a huge influence on his work, he leaned more towards landscapes and became a master of light and brushwork.
Painting Master
Gainsborough returned to Suffolk in 1749 and lived as well as worked there for a decade. His work consisted of local gentry and merchants portraits.
He got married to Margret Burr in 1746, and they had two daughters together. Later he would shift to portraits in a bid to make income, and his talent would attract prominent persons at the time. In 1759, he moved his family to Bath. There he would study the portraiture works of Van Dyck and be able to attract a higher paying, high society clientele.
His reputation continued to grow as he started sending his portraits to the society of art exhibitions in London in 1761. In order to attract as much attention as possible, he would select the portraits of well-known clients for the exhibition. Thanks to these exhibitions, he started acquiring national acclaim for his portraits and was invited to be one of the founders of the Royal Academy.
His relationship with the Royal Academy would later be strained and he stopped exhibiting his paintings there in 1773. His rising popularity, as well as prosperity, led him to engage his other passion in music. He would learn to play a number of musical instruments such as the harp and the hautboy.
His indulgence in music was expansive as he employed several international musicians and developed a theatre-like atmosphere around himself. In 1774 he was so successful and he moved to London and lived in Schomberg House, Paul Mall. He later, in 1777 started exhibiting his paintings in the Royal Academy again.
This time his exhibitions included portraits of contemporary celebrities, such as the Duke and Duchess of Cumberland. These exhibitions would continue for the next six years. His exhibitions at the Royal Academy caught the eye of members of the royal family.
Beyond Gainsborough, other famous British artists of whom his career has been compared include William Turner, George Stubbs, Joshua Reynolds and John Constable. There was also impressive work from German-born Hans Holbein and also Edwin Landseer who produced animal-themed paintings such as Monarch of the Glen.
Among those whose eye was caught by Gainsborough's talent was King George III. His work in portraiture also attracted interests from a number of nobles.
As such, he became a contender for the prestigious position of the royal painter. The King would name Joshua Reynolds as the official court painter, but Gainsborough remained a favourite of the royal family.
Notable Works
Among Gainsborough's most notable works, were his paintings of the portraits of King George III and his queen in 1780. He received many royal commissions for these paintings which gave him a considerable influence in the Royal Academy.
Therefore, he gained more authority over how he wanted his paintings to be exhibited. He removed all his painting from the Royal Academy and transferred them to Schomberg house in 1783, towards a forthcoming exhibition. Gainsborough's paintings were more inspired by his observation of nature than any acquired formal academic rules of art.
His paintings had a poetic aura around them and were known to elicit deep emotions. Gainsborough's work was a complete contrast to that of his competitor for the position of the riyal painter Joshua Reynolds. His portraiture work was impulsive and unconscious while that of Reynolds was sophisticated and conscious.
Gainsborough, unlike Reynolds, borrowed no pointers from historical paintings as his paintings were more inspired by observation of human nature at the time.
He viewed his indulgence into portraiture as a means to meet his economic necessities and had, therefore, no interest in respectability. He regarded himself as more of a landscape painter than a portrait painter. Among all English artists, he exhibited the most natural talent as a painter.
The Blue Boy, Gainsborough's most famous masterpiece has the volume of a Renaissance sculpture. The painting exhibited his expertise as a Rococo painter as well as his ability to produce a precise and smooth finish. It is an exhibition of a historical costume and poise. The costume in the portrait dates 140 years prior to the painting of the portrait.
The painting is an expression of confidence and poise. As part of those he studied from, Gainsborough work contained stylistic elements similar to those in Van Dyck's portraits. The identity of the Blue Boy would remain anonymous for the next two centuries. Historians have however unearthed him as Jonathan Buttall, a son of a hardware merchant who was a friend of Gainsborough.
The painting was done a used canvas and it covers another portrait. This painting solidified Thomas Gainsborough's space in London as far as the history of art is concerned. The painting now is in the Huntington Library in California after being sold for a record $728800 at the time.
Late Years
During his later years, his paintings were relatively simple, ordinary landscapes. His passion for art had always leaned towards landscapes though they had earlier not been popular with buyers. His paintings, even large ones, were done hastily and he ignored laid out academia rules pertaining to painting.
Gainsborough died of cancer at the age of 61 in 1788. As per his wish, he was buried in Kew Churchyard in London as well as his wife Margret where they attended church regularly. He is considered as one of the greatest artists of his era in London. He is regarded as the most inventive and original painter of that time, who was always ready to try out new techniques and ideas in his art.