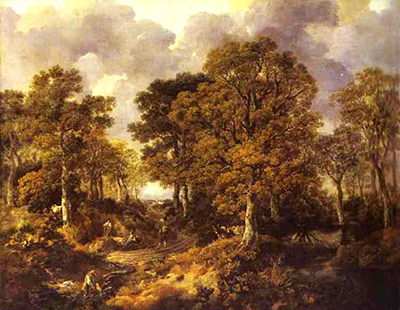 Buy Art Prints Now
from Amazon
* As an Amazon Associate, and partner with Google Adsense and Ezoic, I earn from qualifying purchases.
Cornard Wood was painted by Thomas Gainsborough in 1748. According to the artist, he began the painting before leaving school, and before he had been sent to London by his father. Gainsborough was sent to London by his father in 1740, which seems to indicate that he took eight years to complete the painting.
It is believed that he had earlier made sketches and drawings when still a schoolboy, and thus took up the painting again when he returned to Sudbury. Gainsborough was regarded as an intelligent draughtsman from an early age, which explains why he is regarded as one of the most talented artist from England. This piece was painted at a time when capitalist landowners in England were enclosing common lands. The painting depicts rural folks roaming in the peaceful free woodlands. Cornard wood is located on the outskirts of the Great Cornard, just 2 miles from Sudbury where Thomas Gainsborough was born.
Gainsborough painted this landscape from the Abbas Hall view. The path in the painting leads the viewer to the church of St Mary's Great Henny in the background. During the period of this painting, the woods were considered as common land. This meant that they were not privately owned. This allowed villagers to wander freely, graze their animals, and also gather wood. These activities are depicted in this painting, where we see a lady sitting as she rests from digging, a man cutting firewood, animals grazing and people travelling on foot and horsebacks.
Cornard Wood is considered as one of the most intensive landscapes paintings by Gainsborough. The painting consists of 5 people, 3 dogs, flying ducks, a cow, 2 donkeys and a village. The intense levels of detail act to highlight the precocious skills of the painter. Analysing the painting, it is evident that Gainsborough approached it with a technique and lighting manner associated with 17th century Dutch paintings. It is believed that Gainsborough took keen interest in Dutch art during his time in London. He would copy great Dutch artists such as Ruisdael and Wynants. According to the artist, he claimed that the painting had passed through 20 art dealers in the intervening 40 years, and that he himself had once bought the painting back for 19 guineas. The name of the painting is believed to have been coined by painter John Constable, who recognised the scene of the paining as he was painting near Woodbridge in 1800.