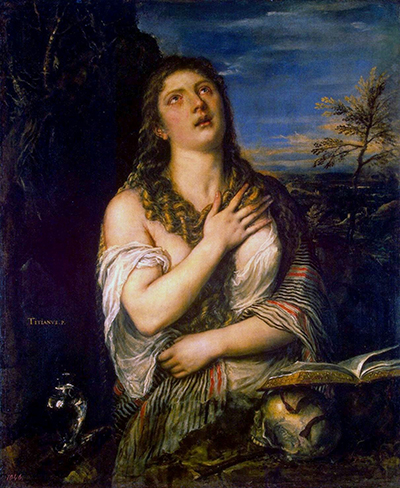 Buy Art Prints Now
from Amazon
* As an Amazon Associate, and partner with Google Adsense and Ezoic, I earn from qualifying purchases.
Saint Mary Magdalene returned to Titian's work in this 1565 oil painting that captures this famous religious scene that symbolises error and repentance
This was a later version along the same theme as Titian's Repentant Mary Magdalene. In the earlier work she is virtually naked but the two are very similar in style and content. The main difference is the addition here of a vase, an open book and a skull which is commonly referred to as a memento mori where one reflects on one's own mortality.
Saint Mary in this depiction seems particularly distraught as she reflects on the errors of her ways. Having spent 30 years in the desert, she now appears in a forelorn state. This served as a warning to all others of what can happen if you divert from the word of God, such as when people become distracted with the material world.
Titian chose to use more vibrant colours in this later work, which is more inline with the style that he is most well known for. It is particularly the palette used for the landscape scene in the background which differs the most. There is also a dark rock to the left of the composition which helps the blue sky to stand out even more.
You will find this powerful scene at the Hermitage Museum in Saint Petersburg in what is considered by many to be amongst the finest art galleries in the world. A famous art dealer would invest in artists such as Henri Matisse before the point at which they were truly famous, meaning he was able to snap a great number of artworks at competitive prices. His boldness was to the benefit of the Hermitage Museum, who received most of them at a later date.