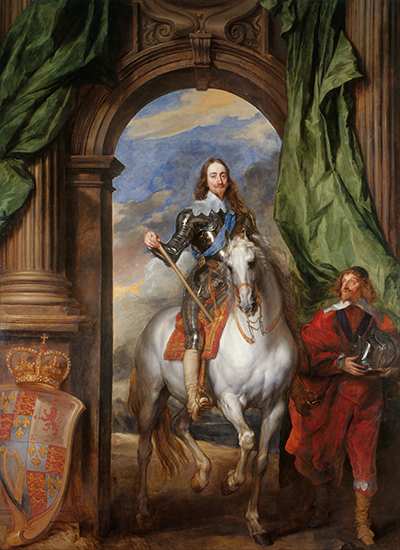 Buy Art Prints Now
from Amazon
* As an Amazon Associate, and partner with Google Adsense and Ezoic, I earn from qualifying purchases.
Anthony van Dyck and Peter Paul Rubens rank alongside George Stubbs as perhaps the finest equestrian portraits painters in history
The combination of human and animal portraits sat in front of a landscape background scene would require years of practice and a very precise hand in order to merge these together seamlessly. Charles I was featured by Van Dyck on several occasions, several of which featured horses in different guises. This is one of many Van Dyck paintings which are now part of the Royal Collection in the UK.
The monarch was a huge follower of flemish art in general but also had a particular passion for the skills of Van Dyck and his master, Peter Paul Rubens. They were to become his first choices for new commissions over an extended period with the former being gifted a prominent position within his court.
This composition displays Charles I's riding master, Pierre Antoine Bourdon, Seigneur de St Antoine in the bottom right corner. The focus is deliberately directed towards the monarch, with everything else in this scene, including the horse, being a secondary item. This is believed to have been the first equestrian portrait of the king by Van Dyck, completed in 1633, with several others following on afterwards.
The layout for this painting aims to portray Charles as strong and powerful, as he sits a top a muscular horse looking in total command. The breed of the horse is most likely to be a Lipizzaner. The arch that he appears below also adds an impressive, triumphant atmosphere to this painting. The clothing here is also significant, with the monarch sporting parade armour and several items that symbolise his connection to the military.
The coat of arms found on the left hand side can be explained by the four quarters that make up its design. It is to represent the House of Stuart, with elements present from French, English, Scottish and Irish influences. The painting changed hands on several occasions before becoming part of the Royal Collection.