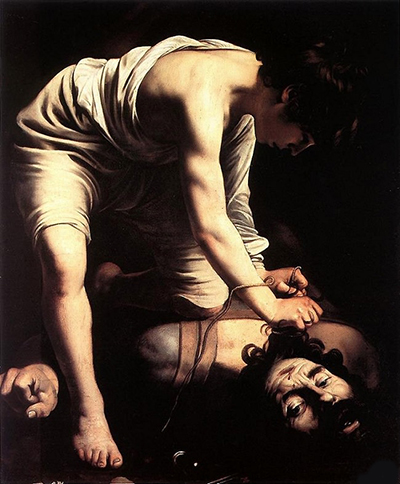 Buy Art Prints Now
from Amazon
* As an Amazon Associate, and partner with Google Adsense and Ezoic, I earn from qualifying purchases.
David with the Head of Goliath 1599 is the first of three paintings related to the story of David and Goliath by the Italian Baroque master, Caravaggio.
This painting of David and Goliath was created during the early period of the artist's career, when he was living in the household of Cardinal Francesco Maria Del Monte, who was a patron of young Caravaggio at the time.
David with the Head of Goliath 1599 is a depiction of young David from the famous Biblical story of David and Goliath. The scene here takes place after David's victory over the Philistine champion, having felled the giant by shooting him squarely in the forehead with a single shot of his sling.
Michelangelo Merisi da Caravaggio was born in the Duchy of Milan, a constituent state of the Holy Roman Empire in northern Italy, in September 1571. During his short life, Caravaggio not only developed an impressive name for himself as an artist, but also a reputation as a provocative and sometimes violent man. The story of Caravaggio's life is one filled with enough drama, mystery, and strangeness to rival most Hollywood films of today.
David leans on Goliath's massive torso, from which his head has already been severed. Goliath's expression is such that he almost seems as though he might still be alive. However, this image is a subdued version from Caravaggio's original vision.
X-rays have revealed another version in which Goliath's face shows a more starkly realistic expression of pain. This previous work, with Goliath's terrifying expression was much more dramatic; the bulging eyes and mouth wide open with a lolling tongue in a silent scream of agony may have been deemed to be too violent by Caravaggio's client and therefore toned down.
In this revised version, the light captures the viewer's attention and draws the eye not only to Goliath's face and the wound from the stone that brought him down, but to the arm and leg of young David as he strings up the giant's head.
The boy's face is obscured by shadows and is almost completely invisible. The scene depicted in David with the Head of Goliath 1599 is one of a silent moment between the underdog and the defeated. There is no victory celebration, no audience, and no triumph. There is only a young boy whose work is not yet finished, as he still must present the head of Goliath to the Philistines in order for the battle to truly be put to an end.
Caravaggio would go on to create two more paintings of David with the Head of Goliath: David with the Head of Goliath in 1607, and David with the Head of Goliath in 1610. The latter is considered to be Caravaggio's final work before his mysterious death in Tuscany at the age of 38.