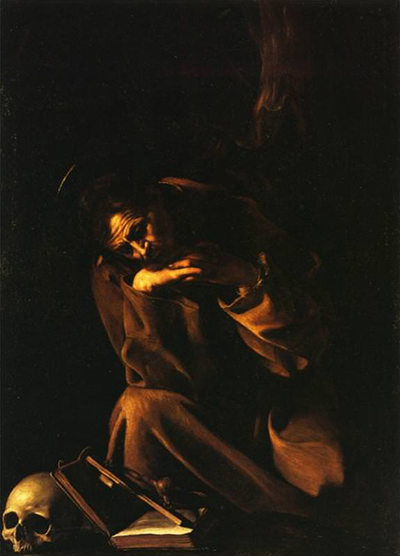 Buy Art Prints Now
from Amazon
* As an Amazon Associate, and partner with Google Adsense and Ezoic, I earn from qualifying purchases.
Saint Francis in Meditation is an oil painting on canvas by Italian Baroque master Michelangelo Merisi da Caravaggio (29 September 1571 - 18 July 1610).
Baroque was an artistic style that began in Rome in 1600 and extended across most of Europe. The style employed exaggerated motion and unambiguous detail to create drama, intensity and ebullience and was used in many art forms, including painting, sculpture, architecture and literature.
Caravaggio's paintings are recognised for their realistic observation of the physical and emotional human state, combined with dramatic lighting.
Michelangelo Merisi da Caravaggio made dramatic use of chiaroscuro, an Italian oil painting technique created during the Renaissance and translates to English as, 'light-dark'. The technique creates a dramatic effect through using strong tonal contrasts between light and dark to create three-dimensional forms.
This technique is closely associated with the artistic technique tenebrism, also called 'dramatic illumination'. Both techniques were employed in the creation of Saint Francis in Meditation.
The painting Saint Francis of Assisi in Meditation has an unconventional composition. Saint Francis is featured front-on, bending over a book with a tree trunk close by him. Michelangelo Merisi da Caravaggio made the decision to depict Saint Francis with an expression that does not express the exuberant devotion to nature prevalent in Saint Francis's hymn to the Sun.
The precise year Michelangelo Merisi da Caravaggio created Saint Francis in Meditation is unknown, however the date is assumed to be around 1604/06 or 1607/10.
The painting's measurements are almost exactly the same as another of Caravaggio's works, Saint Francis in Prayer. Both oil paintings are of uncertain date and feature Saint Francis of Assisi contemplating a skull. There is dispute as to whether either is a copy or original work.
Saint Francis of Assisi (1181/1182 - 1226) was a popular figure during the Counter-Reformation, when the Church officially emphasised the imitation of Christ, expressing poverty as a virtue.
He is a feature in several of Michelangelo Merisi da Caravaggio's works, including the painting 'Saint Francis of Assisi in Ecstasy' (c. 1595).
Saint Francis was an Italian Roman Catholic friar, deacon and preacher. He is one of history's the most venerated figures and was canonized by Pope Gregory IX on 16 July 1228.
Saint Francis was associated with animals and the natural world and is often considered the Patron Saint of animals. He was also designated as the Patron Saint of Italy, along with Saint Catherine of Siena.
Michelangelo Merisi da Caravaggio's Saint Francis in Meditation currently resides in the Museo Civico Ala Ponzone, a museum in Cremona, Italy.