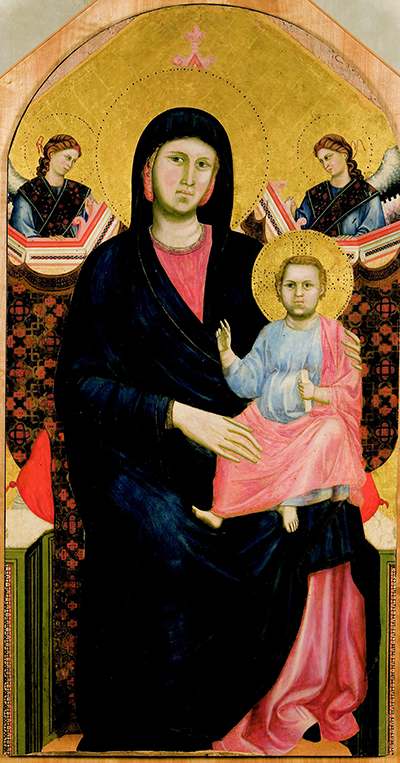 Buy Art Prints Now
from Amazon
* As an Amazon Associate, and partner with Google Adsense and Ezoic, I earn from qualifying purchases.
The Madonna and child were painted when Giotto was approaching the end of his career. Giotto used a conventional Byzantine background that involved a gold leaf that symbolized the kingdom of heaven. The white rose symbolizes Mary's purity and also acts as a reference to depict the innocence that humankind lost after the original sin.
The elevated position of the Madonna and Child symbolizes spiritual superiority; however, it is made real by the illustration of a throne that has steps going into it. The steps do not float in mid-air as in other portraits. The child, who depicts Christ, is the focus of the painting as he represents salvation for mankind. The background of the painting is a gold leaf while the Madonna has a blue-green fabric with parts of yellow and red. The painting used on Madonna's flesh is vermillion and green earth. The colours used in this painting are soft and classy which signifies classicism. There is also a restraint on the image with the child trying to reach for the flower in his mother's hand. This shows realism as this action is what an ordinary child does.
There is also individualism in the image which is depicted by the interaction of the mother and her child; this shows that the two are humans despite being religious figures. The values of Giotto's renaissance are depicted in this painting. The painting was done on a gesso ground white in colour where radiographs display a fabric interlayer in between the wooden panel and the gesso. The painting has some gilded areas that were prepared using a green earth film and red bole. The decorative border on the edges is adorned with patterns that are crafted by hand on the ground made of gold. The image outline is also crafted in the ground. The fleshy part of the portrait was made by the application of green under the paint which brought out the shadows very well; the paint used was made in thin liquid layers.
In conclusion, the Madonna and Child painting by Giotto is an artwork that somehow changed the way people, more so Christians, perceive the Virgin Mary and her child Jesus. This drawing brought out a human aspect of the duo by depicting them as a human in addition to being religious figures. The paint used in this painting was also of high quality in comparison to Giotto's previous works. This painting was quite different and had so many symbols that said more than what you can see. It was done with a high artistic level that made it outstanding The painting has such a huge impact such that it was duplicated in part by other painters thereafter; an example is the Madonna Enthroned that was created by Cimabue, someone believed by many to have been Giotto's teacher. All in all, Giotto was a prolific painter who brought out realism in his paintings.
Table of Contents
Description of the Painting
This is one of Giotto's simpler compositions, featuring the Madonna and Child enthroned within the foreground. They are enlarged to fit most of the length of the painting which symbolises their considerable importance, both within the painting itself but also to the Christian faith. Over their shoulders are two angels whose identities are confirmed by wings which protrude from behind. The artist adds a patterned moasic-like appearance to the back of the throne on which the madonna sits, with a sculptured effect continuing around the bottom. The madonna is dressed modestly, with a coat covering most of her body, with a pink dress just appearing with small details. The child is in a light blue tone with a pink shawl hanging over his shoulder. Their fingers are noticeably long and thin, a style common at that time but certainly elongated from what one might expect to see.
When did Giotto Complete this Artwork?
Giotto di Bondone completed Madonna and Child for the San Giorgio alla Costa between the years of 1295-1300. As with much of the rest of his career, a more precise date is particularly hard to confidently attribute. Historians have managed to piece together the artist's movements across Italy during his lifetime which has made it easier to place artworks from his career, but to be more precise than spans of several years at a time has not been possible for most of his artworks. There have also been a number of projects, such as his Scrovegni Chapel frescoes, in which many separate artworks were completed together over a number of years and it would be impossible to tell where each one fitted within the overall delivery. With seven centuries having passed since these paintings were produced, it has been necessary to draw on other artist's biographies in order to learn more about Giotto's career.
What Techniques did the artist use for this Painting?
The artist produced Madonna and Child using tempera on wooden panel. Many of his independent artworks were created in this manner, whilst his series tended to be as frescoes instead. The artist also used gold paint frequently and this was one of the signature elements of his style which had been passed on from those who originally taught him. Giotto chose to use golden colours for the background of some of his paintings, as well as on the halos which he gave to the key figures of each composition. In this case, for example, we find halos on both the Madonna and Child, as well as on the angels at the back of the painting. He chose to then use shades of pink, light blue, dark blue, red and green for the various details across the rest of the work, such as on the detail of the throne as well as each figure's clothing.
What is the Meaning of The Madonna and Child?
The Madonna has been used within art since around the 2nd century but it was not until the middle ages that the iconic image of The Madonna and Child would start to appear. It was most commonly found within Italian and North European art. They were most frequently seen from around the 13th to 16th century, where Giotto fits in, and the artist who is most well known for this specific genre would have to be Raphael. He produced around thirty different versions of this one topic. The meaning of The Madonna and Child specifically symbolises the motherly love of the Virgin Mary for Jesus. To see them enthroned, as is regularly found within these paintings, is a reference to their critical importance to the Christian faith, with most compositions rising them up off the floor to rise above the other figures around them.
Did Giotto create any other Madonna paintings?
The artist also produced Ognissanti Madonna, and this remains one of his most famous paintings of all. That features a more complex composition, with many more figures and detail across the piece. The item in front of us on this page, however, is a simpler item which may have been intended for a smaller audience. The Ognissanti arrived at least six years later and so it is possible that some learnings from this earlier piece went into that one. Giotto regularly used assistants but would tend to complete smaller projects entirely on his own, and so both of these Madonna paintings may have been entirely his own work. Many question marks remain around his paintings, with attributions difficult because of the many centuries that have passed since then. Most historians are, however, entirely comfortable in attributing both of these items to his hand and there is little or no evidence to go against those judgements which were made centuries ago and have been strengthened in recent years through scientific research.
Where can The Madonna and Child be Found Today?
The painting can be found at that Museo Diocesano in Florence. Originally, the artwork was to be found in The Church of San Giorgio alla Costa which is also based in central Florence, Italy. This religious venue has played host to a number of significant artworks in the past, though most have since been moved elsewhere. Alesso Baldovinetti's Annunciation, Paolo Uccello's The Thebaid and Giotto's own Madonna have all been on display here for extended periods before being relocated elsewhere in order to better protect them for the long term. As Giotto produced several Madonna depictions within his career, and the long length of time that this painting was on display within the church, it has become widely known as his Madonna di San Giorgio alla Costa. The church itself remains open today, but does not have quite the same significance that it once enjoyed.
History of The Church of San Giorgio alla Costa
This particularly old church was dedicated to the martyr Saint George and for a period was joined by two other churches in close proximity. This building has been in use before the year 1000, making it a part of medieval Florence. Soon after Giotto had completed his commissioned piece, a convent was added on to the church. Over the next few centuries the building would then pass its ownership through a number of different congregations before being acquired by local authorities in the 19th century. In recent years elements of the building have fallen into disrepair and so the church would now be entirely unsuitable to hold any original artworks from past centuries and these have sensibly been moved to professional galleries and museums elsewhere in the city.
Where does this Piece fit into the Artist's overall Career?
The Madonna and Child is not considered one of the highest profile commissions for Giotto, and is overshadowed by the projects which came just before and just after this work. However, its inclusion of such an iconic image has helped it to remain in our thoughts and it also holds one of the strongest attributions to Giotto of any paintings connected to his hand. At nearly two metres tall, it is an impressive piece but it is this artist's work that resides within major art galleries that tend to receive the most attention, because of the number of people who are able to view them in person. That said, there is something majestic about witnessing one of these early Renaissance pieces within a religious setting, just as was originally intended and so there are still plenty of visitors to the church who are drawn to this particular piece.
What other Artworks did Giotto Produce at around this Time?
This Madonna and Child only has a loose dating of around 1295-1300. The artist moved around a lot in this part of his life, taking in Florence, Rome and Assisi at around this time. He is known to have worked on the Frescoes of the Franciscan Cycle in the Upper Basilica of San Francesco in Assisi in the years leading up to the Madonna depiction and shortly afterwards he would move to Rome in order to complete several frescoes in the loggia of the Lateran for Boniface VIII. Soon afterwards, at the turn of the century, he would head to Florence for the Badia Fiorentina, before then having his first spell in Padua which would play an important role within the next part of his career. The San Giorgio alla Costa itself is to be found in Florence and is believed to have come immediately after his work in Assisi, even though several projects span across each other.
Large Image of Giotto's Madonna and Child