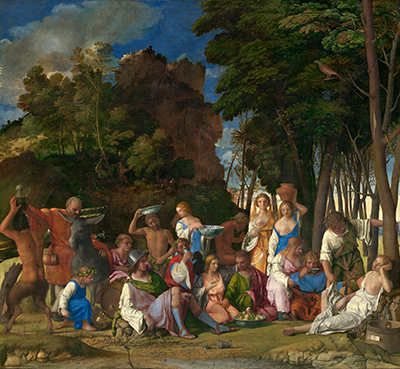 Buy Art Prints Now
from Amazon
* As an Amazon Associate, and partner with Google Adsense and Ezoic, I earn from qualifying purchases.
Giovanni Bellini initially completed The Feast of the Gods in 1514 before amendments were made later on by several artists, one of whom was fellow-Venetian master, Titian.
Il Festino degli Dei, to give it its original Italian name, is one of very few mythological paintings created by Bellini. Most of the amendments made after his own contributions had been completed were to the background and landscape elements, meaning the main focus was produced almost entirely by Bellini and left untouched.
The decision to cease work in 1514 was due to Bellini's own passing rather than switching to another project and it took around 15 years before Titian and Dosso Dossi took over the piece and finished off elements of the background. To have two great masters work on the same painting makes it particularly special and it was Bellini's final painting.
The Feast of the Gods was just one part of a larger series commissioned for Alfonso, I d'Este, the Duke of Ferrara. They were all intended for a single room within one of his properties and several different artists were brought in to complete different elements of this large project. Some of Titian's paintings still remain today, with one lost. Dosso Dossi was also involved on around ten smaller pieces. In order to be able to hire such prestigious names for a domestic commission underlines the wealth of prominence of the d'Este family in general.
There is a growing belief that the amendments made to this painting were not actually because it was incomplete but actually because Titian wished to make it fit seemlessly with another of his paintings from the series, namely The Bacchanal of the Andrians. His two other works for this series that still exist today were Bacchus and Ariadne and The Worship of Venus.
It was common for donors to appear within their own paintings during the Renaissance, often as supporting figures, away from the main focus of the piece. In this case, though, many believe that Alfonso actually went one step further and actually contributed to the painting himself. As an amateur painter himself, some have conjectured that a small pheasant on the right hand side of the scene was actually added by himself.
The National Gallery of Art, Washington, D.C. possesses this fine artwork and they themselves consider it one of the most impressive Renaissance paintings to reside in the US. The acquisition of art from this period has proved particularly difficult in recent centuries, with owners tending to keep hold of them in private collections or eventually bequeathing to national institutions. Bellini's The Feast of the Gods stands at 170cm by 188cm which is a fairly standard size for his more signficant commissions.