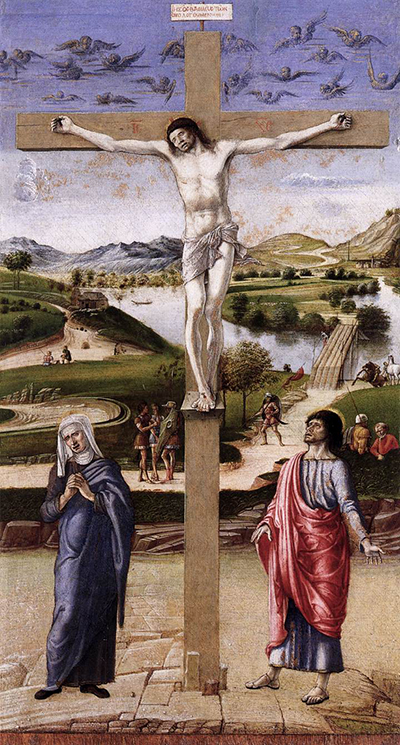 Buy Art Prints Now
from Amazon
* As an Amazon Associate, and partner with Google Adsense and Ezoic, I earn from qualifying purchases.
Studying the full oeuvre of Giovanni Bellini reveals a development in his paintings, both in style and content
The early paintings featured, almost exclusively, a selection of religious themes, perhaps due to the influence of those in Giovanni's father's studio. Bellini made use of a plethora of supporting assistants from his large studio in order to help him complete a growing list of significant commissions.
Two of the key names that took his influence and added their own unique qualities were Giorgione and Titian. To be responsible for bringing the best out in these two artists ranks as important to the development of European art as Giovanni Bellini's own paintings.
As a young student, Giovanni was taught by his father of the virtues of the Florentine Renaissance, at a time when Italy was still a collection of the Papal States. This separation of states would not deter artists from travelling around the kingdom in order to discover new artistic influences, and Giovanni Bellini followed in the footsteps of his father by doing this too.
A significant change in Bellini's style occurred after his switch from tempera to oils. Oil paint had been used by many in the Northern Renaissance, particularly Flemish regions and it was not to become popular in regions of Italy too. The use of oils enabled Bellini to bring an extra vibrancy to his colours and a wider variety in tone. That was to become the signature feature of Venetian artists as a whole during this period and the influence of Bellini within that was considerable.
Masaccio and Piero della Francesca bear similarities to some of Bellini's paintings, such as with their skilled use of natural light plus also the way in which perspective was incorporated into the composition. Bellini would have met the latter during a boat journey and later would make use of some of his characteristics as a painter for his own work, with an increase in detail being one such aspect.
Giovanni produced his best work after taking over from his brother, Gentile, in the hall of the Great Council in Venice. His main role here was to conserve the existing panelled works but he also produced several exceptional new paintings himself. Sadly these highly respected works have since been entirely destroyed due to fire. There are several related works that enable us to get an idea of what he had achieved, both from his assistants and other family members. Installed artworks always face a greater threat of damage, particularly so during these earlier times.
Research completed over the last century have revealed that there was a strong bond between Venetian and Netherlandish artists, with several collections in and around Venice containing a well-crafted blend of work from the two regions. Paintings by Rogier van der Weyden and Jan van Eyck, for example, would sit alongside contributions by the Bellinis, plus Giorgione and Mantegna. Is has also been generally accepted that each region influenced the other, though it has proved difficult to pinpoint precise artworks as examples of this. It is probably that many of the attributions at this point were not entirely accurate due to the desire for enthusiasts to have prestigious names in their collections, but that doesn't reduce the impact, artistically, of these two regions on each other.
Whilst the influence of Netherlandish and Venetian art has been hard to summarise in specific examples, there are some available that simply cannot be disputed. Compare the finish of Giovanni Bellini's Portrait of a Boy, from around 1470, with Jan van Eyck's 1432 Portrait of a Young Man and you will find obvious similarities in the way in which a stone parapet is used to frame the piece and also the way in which both composition feature a three-quarter length view of each subject's chest. The inscriptions placed at the foot of each painting are also delivered in a near-identical style.