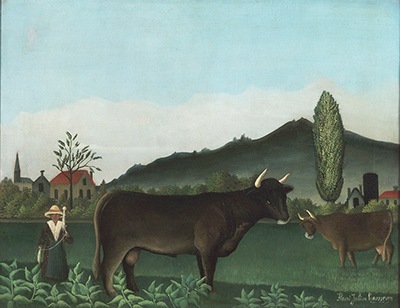 Buy Art Prints Now
from Amazon
* As an Amazon Associate, and partner with Google Adsense and Ezoic, I earn from qualifying purchases.
Henri Rousseau drew the Landscape with Cattle at his prime artistic age. He was part of the Primitivism group, which was known for its inborn creative nature. At the point of drawing, Henri was in transition from his day job to fully concentrate on art.
Besides its facial meaning, the painting carries a lot of history both to Henri and the post-impressionist primitivism art movement.
The Landscape with Cattle
The painting represents a typical countryside, with a well-tended farm. Since agriculture was prominent in the late 19th century, Henri intended to bring out the beauty of the farm. There are two cattle in the foreground, a bull and a heifer, with a person looking after them. The middle ground has grassland, with one cow at the centre.
On the far left at the middle ground, there are farmhouses, typical of the countryside. The far-right has what looks like a hall or a place of worship. The green vegetation stands out in the painting, a classic sign of fertile soils and enough rain. The hilly background completes the serenity.
Henri did the painting in 1886 using oil on canvas. The original painting was landscape to give a broader perspective of the painting. However, most art galleries reproducing the painting have reduced it to smaller or larger sizes, but to scale. The original painting had numerous owners from its production time to date. Currently, the Philadelphia Museum of Art in the United States is the custodian of the painting.
Henri Rousseau's Works and Inspiration around the Time
Henri Rousseau had over 180 paintings to his name, with different inspirations along the way. Most of his paintings around 1885 to 1890 were inspired by nature. From farm fields to cattle, natural trees and countryside settings, all his paintings invoked the beauty of nature. Some of his memorable paintings include Carnival Evening "1885/6), Landscape (1885/6) and Rendezvous in the Forest (1886).
Pablo Picasso, Jean Metzinger and Robert Delaunay are some of his influencers. They inspired his artistic works, which made him one of the notable self-taught painters of his generation. He flourished alongside Constantin Brancusi in the Naïve Art generation and exhibited his works all over Europe.
Besides field and plain paintings, Rousseau also did portraits, towns, occasions and physical features. He was good with colours, which made all his paintings lively and with a balanced colour mix. Throughout his 35 active years in painting, Rousseau had cemented his position as a master in the Naïve Art Movement.