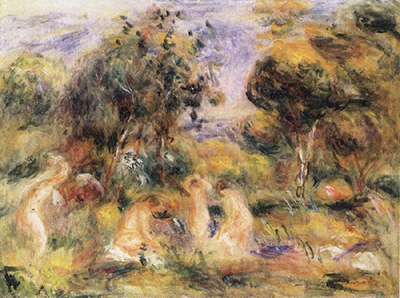 Buy Art Prints Now
from Amazon
* As an Amazon Associate, and partner with Google Adsense and Ezoic, I earn from qualifying purchases.
Pierre-Auguste Renoir's exemplary work with oil on canvas is renowned and The Bathers is a great example of his talent.
While initially the painting seems to contain two women who are bathing, the viewer eventually sees that another group of women is in the background. The two in the forefront seem to be relaxed and are possibly conversing.
The setting is rich with natural life and is said to be that of the painter's own Cagnes-sur-Mer garden. The women seem to be suspended in a world where modern inconveniences and fetters are washed away. They are free to be themselves.
The painter does not paint stick thin figures and these women, like many of the women in his other later paintings, are full figured and have beautiful curves. Their skin is rendered with Renoir's exquisite attention to light and colour. The artist has a tendency to paint friends and family in his work. One of the models in this painting is Andree Hessling. She went on to become the wife of Renoir's son.
The Mediterranean scene alludes to the established customs of Greece and Italy. Renoir saw this as the thing that he needed to paint. This pure vision is stressed by the models' sexiness, the rich hues and full structures.
The female form is one of the focal subjects of Renoir's later work. The artist painted nudes resting and showering. He painted single nudes and gatherings of them. This represents Renoir's turn towards fresh, sharp figure painting, the naked form is sketched out against a vague Impressionist scene.
The Bathers owes a lot to the nudes painted by Titian and Rubens. These were all extraordinarily appreciated by Renoir. They express a delight in painting which was not reduced by the disease affecting his ability to hold a brush, which the painter pushed through in his last years. He strapped his brushes to his hands when he was unable to hold them.
Renoir is known as an Impressionist but his later work shows his rebellion against this as he started to make figures more defined. By the late 1870s, tired of being poor, Renoir set out to make workmanship that would satisfy the Salon. His work was different but the change allowed him to move from the city to the country setting that he enjoyed more.