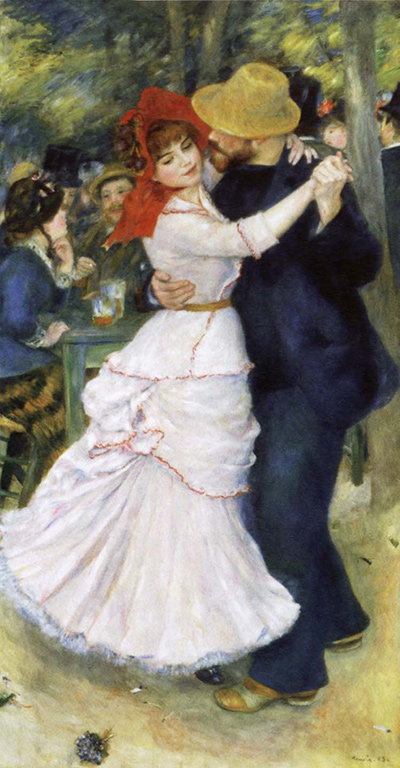 Buy Art Prints Now
from Amazon
* As an Amazon Associate, and partner with Google Adsense and Ezoic, I earn from qualifying purchases.
Dance at Bougival (Danse à Bougival in French) was painted by Pierre-Auguste Renoir in 1883 and is one of his most famous pieces. The painting depicts two of his friends that he used as models more often; Paul Auguste Llhote and Suzanne Valadon.
Renoir was mainly a figurative painter, with a preference for the female form. In this painting he uses vibrant colours and lavish brushstrokes to draw the eye to the joy of the two people on the foreground, but even more so to the woman, making her the main focus. Everything else in this picture falls to the background as you instantly look at the twirling couple. While there is a lot more going on in this artwork, the surroundings almost seem to fade into the background as the attention is immediately drawn to the woman in the pink dress and red bonnet. There is great meriment across this scene, behind the dancing couple you can see a number of figures sat down, drinking and socialising. There are trees that intercept the composition to provide a vertical balance, with additional foliage across the background in a blurred, unobtrusive style.
"...I want my red to sing out like a bell. If it doesn't, I add reds and other colours until I get there..."
It is pretty clear that in this painting, his reds do sing out. Bougival, where this painting is set, is one of the suburbs of Western Paris. This was a popular place for Impressionists painters and here, around many of the open-air cafés along the Seine, these artists would often be found. Dance at Bougival is currently being displayed at the Museum of Fine Arts in Boston, United States of America. They have described it as "one of their most beloved works." This work of art was painted in oil paint, and is signed in the lower right corner with the inscription Renoir. 83. Dance at Bougival is similar to two of Pierre-Auguste Renoir's other works, both in style and composition. Dance in the Country (Danse à la Campagne in French) and Dance in the City (Danse à la Ville in French), each painted in the same year, 1883. The same models were used for all three paintings, apart from Suzanne Valadon in Dance in the Country who was replaced by Aline Charigot.
Although the artist's popularity has come under fire in recent years due to some bizarre internet campaigns, most genuine art followers still appreciate the charming nature of his work and also the considerable technical ability that lies behind each of his paintings. This scene is particularly uplifting, ranking his most positive and accessible piece. Artists have for many generations captured portraits of individuals enjoying themselves in social occasions and the location of Dance at Bougival was actually used many times as inspiration by other members of the Impressionist movement too. It is the combination of different groups having their own personal conversations, the relaxed nature of the gathering and also the fact that they are outside within a local park or perhaps a large garden that makes this painting so appealing. It is for these reasons that it is also one of the most popular Renoir prints, from a selection that runs into the hundreds.
The artist would often blur the background elements of his paintings in order to ensure that one's focus remains predominantly on the main elements of the composition, which in this case is the couple dancing in the foreground. He would use long objects to stretch across the canvas and help build a sense of perspective and scale, using trees in this case. Elsewhere he might use elements of buildings, such as pillars to produce the same effect. The jovial nature of this painting is added to by the drinks that we see perched on the nearest table, whilst the rest of the activity behind is more suggested at rather than being specifically added into the work. Those who are familiar with Renoir's paintings will find this artwork to be entirely in line with the rest of his career oeuvre, particularly with other artworks that came about during the same period as this, which was the 1880s. Whilst the occasion looks relaxed and informal, the clothing is still fairly smart and of good order. This was a middle class gathering, certainly, though the atmosphere portrayed is of fun and friendly banter.
The Museum of Fine Arts in Boston holds an impressively diverse selection of antiquities from right across the globe. Asia, Africa, Oceania and the Americas are all well represented here, making this a venue that should appeal to pretty much any taste. Within their European catalogue you can find sculpture, silverware and a large number of paintings from the Early Renaissance up to more recent centuries. Artists related to Renoir that you can find here include Claude Monet, Edgar Degas, Gustave Caillebotte and Edvard Munch. Those looking to view a specific artwork should check ahead to ensure that is on display as the venue. In total, there are around 450,000 works of art within their collection and the museum itself was established in 1870. It was visited by over a million art fans in a recent calendar year that placed it amongst the top 50, globally, in terms of attendance at an art gallery or museum.