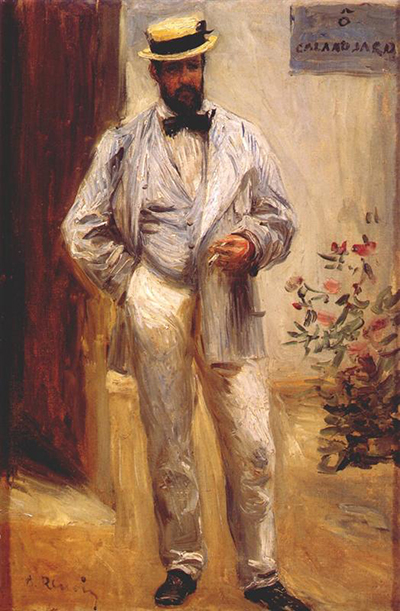 Buy Art Prints Now
from Amazon
* As an Amazon Associate, and partner with Google Adsense and Ezoic, I earn from qualifying purchases.
Created in 1874, Renoir created the painting at a time when he was going through a lot of financial difficulties
Renoir wrote a letter to Charles the Heart asking him to allow him to paint a portrait for a fee. Charles, a kind-hearted soul, allowed Renoir to create the painting as he stood in front of the door of his family's property located in Fontenay-aux-Roses.
Renoir emphasised on Heart's distinct features- elusive eyes, the boatman's shadow on the upper part of the face and a beard.
During the first days of his career, Renoir spent lots of time sketching along the Seine's river banks together with Claude Monet, another renowned Impressionist.
The two artists also developed a passion for using bright colours and painting light in the open air. As a result, Renoir's early works featured youthful portraits showing lively facial expressions using broken brush strokes together with brash colours. In one instance, he was quoted mentioning his passion for painting pleasant things in the world with a particular interest in women.
Later years saw Renoir restrict his work to using five colours in his palette, having learnt how to combine them when he was a porcelain painter.
While he incorporated the Impressionist painting style through the use of light colours, a trip to Italy introduced Renoir to works by various Renaissance artists - Rubens, Velazquez and Raphael.
As such, Renoir's other paintings became more linear as he began using bold lines to sketch his subjects and black colour to create contrast. It was then that his work emphasised more on form and contours instead of brush strokes and mixing of colours.
The Large Bathers painting is a product of this new style that Renoir learnt during this trip. He later developed a unique style that blended with his enthusiastic outlook with bold and contrasting outlines. This style became more distinguished over time as Renoir created pieces that showed mythological subjects like the Judgment of Paris.
The latter years (from 1887-1890) saw Renoir's style move in another direction - using thin brush strokes and a more sketch approach. He also focused more on painting epic nudes as well as domestic scenes. In 1887, Renoir finished working on a series of studies that featured a group of nude female figures called the Bathers.
A corner of the Table (Table, Napkin, Fruit) - Having studied French and Dutch Old Master still life painting at Parisian and other galleries, Cezanne created a characteristic semi-approach to still lifes. The painting features an upturned tabletop with peaches, pears and pictorial elements resting on a wooden plank. To emphasise the point, Cezanne uses some wooden scenes and chairs, wine bottles and water pitchers instead of plunging deep into the implied corner of the kitchen.
The Bathers by Gustave Courbet - The painting features a unique treatment of nudes. The eight-foot-tall painting shows two women who are almost naked with no mythological justification. At first, the painting created lots of criticism with Delacroix finding little reason for painting a naked woman with an overly round bum and pointless gestures. However, it was this negative criticism that created lots of publicity, which saw Courbet make a good sale from the piece.