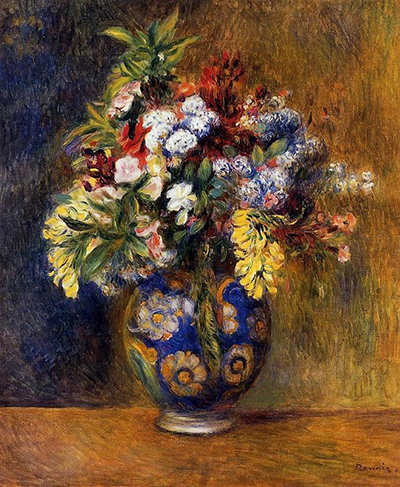 Buy Art Prints Now
from Amazon
* As an Amazon Associate, and partner with Google Adsense and Ezoic, I earn from qualifying purchases.
Flowers in a Vase is an oil painting, created by 19th-century artist Pierre-Auguste Renoir
Pierre-Auguste Renoir (1841-1919) was a French painter who produced several thousand paintings throughout his career. Renoir was also a leading artist in the development of the Impressionist movement.
Pierre-Auguste Renoir's work, Flowers in a Vase, is a still life composition and features a large, patterned vase brimming with a diverse selection of colourful flowers.
The still life subject matter takes central position in the composition. This, combined with a nondescript background which highlights the vibrancy of the vase and its contents, immediately draws the viewer's eye and demands attention.
In Flowers in a Vase, Pierre-Auguste Renoir uses a wide tonal range, contrasting heavily shaded shadows and the left side wall with several strongly tinted flowers, both those in the vase and those featured on it.
The work features a broad pallet range featuring shades of yellow, blue, green red and black. The colours are often saturated to create earthy tones within Flowers in a Vase. Pierre-Auguste Renoir applied the oil paint thickly, in directional strokes, characteristic of Impressionist art.
In his depiction of the still life composition, Pierre-Auguste Renoir also demonstrates another technique popular throughout the Impressionist period: 'worrying', where the application of paint is not limited to the outlines, contours and shading of the details illustrated.
The diversity of colours and tones, combined with the contrasting shapes of flowers and pattern displayed on the vase evoke a sense energy. However, Pierre-Auguste Renoir managed to avoid a sense of dissonance with these contrasts, and a sense of mellow calm permeates the piece.
Impressionism was as concerned with impacting viewers as much as portraying a scene. Pierre-Auguste Renoir emulates this in Flowers in a Vase by evoking the alerting experience of viewing an arranged selection of flowers.
The Impressionist movement began in the late 1960s by a group of artists which include Pierre-Auguste Renoir, Claude Monet and Paul Cezanne. It is an important movement in the history of art in the modern period. Impressionism was a detachment from the conservative approach to art that dominated the art world during the Vanitas tradition.
Impressionist artists shared the belief that art should represent specifically contemporary sensibility. Impressionism and its artists, such as Pierre-Auguste Renoir, became very influential and extended into a division within the wider world of European culture.
Pierre-Auguste Renoir produced several works featuring flowers in vases, but this particular example exemplifies the techniques characteristic of the Impressionist movement. This suggests that the work was created by Pierre-Auguste Renoir prior his a trip to Italy in 1881 where he saw Renaissance artworks, including those by Italian painter Raphael.
This inspired the artist to break from Impressionism in the mid-1880s, when he began to apply more disciplined, formal techniques to portraits and figure paintings, in particular those with female subjects. For the next several years he endeavoured to return to classicism in his paintings, before changing direction again after 1890.