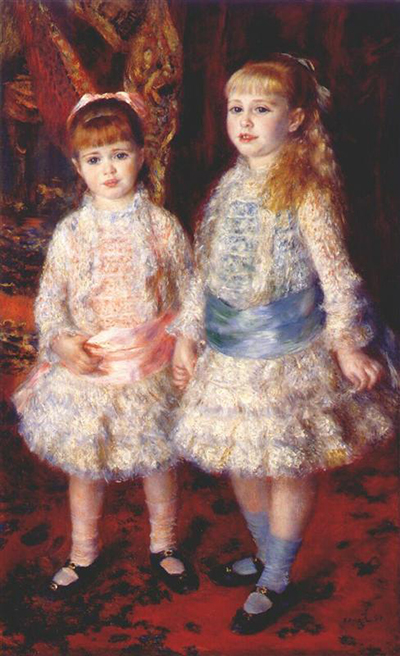 Buy Art Prints Now
from Amazon
* As an Amazon Associate, and partner with Google Adsense and Ezoic, I earn from qualifying purchases.
Elizabeth and Alice Cahen d'Anvers (better known among the general public as Pink and Blue) turned out to be one of the French impressionist painter Pierre-Auguste Renoir's most popular oil paintings
He created this work in Paris during the first few months of 1881.
It depicts the two sisters Elizabeth and Alice, daughters of Louis Raphaël Cahen d'Anvers, a Jewish banker, and his wife Louise Cahen d'Anvers. The painting is among the most popular artworks in the Sao Paulo Museum of Art, where it has been preserved for the past 66 years.
Impressionism, at the time, was seen as revolutionary and groundbreaking. Art fans today would see it now as relatively traditional, though somewhat more colourful than what came from the Renaissance and Baroque periods. Expressive artists who followed in the 20th century would be far more abstract, such as Franz Marc who gave us a fractured composition in paintings such as Fighting Forms, Tiger and Monkey Frieze.
Renoir painted the two beautiful young ladies Alice (born in February 1876) and Elisabeth (blonde, born in December 1874) when they were five and six years old respectively.
This was at a time when he painted numerous portraits for wealthy Jewish families. Louis Cahen d'Anvers and his wife Louise de Morpurgo (who was a descendant of a wealthy family living in Trieste) was, however, one of the richest families of them all.
Renoir was contracted to paint quite a few portraits for this particular family, to whom he had been introduced by the owner of the Gazette des Beaux-Arts, Charles Ephrussi. The latter happened to be a collector and, perhaps more importantly, the lover of Louise d'Anvers.
The original idea behind the assignment was to paint each of the two daughters individually. This came after Renoir, in a painting that is presently kept at the Zurich-based Foundation E.G. Bührle, had earlier portrayed Irene, the family's oldest daughter. At some or other stage, however, the family changed their mind and decided that the two sisters should be painted together. Renoir was paid 1,500 Francs for this work.
According to information provided by Camesasca there were numerous sitting sessions which lasted until the end of February 1881, when Renoir departed for Algiers. Many years later the youngest of the two daughters would recall that the extreme boredom of all those sitting sittings at least had one compensation: the great joy she derived from wearing that stylish lace dress!
Alice went on to live until the ripe old age of 89, when she died in the city of Nice in 1965. She married Charles Vere Ferrers Townshend, a British military officer, in 1895. He led his command to its demise at Kut al Amara in 1916.
Elizabeth's later life took a rather dramatic turn for the worse. After she divorced her first husband Jean de Forceville (a count and diplomat) she married Alfred Émile Denfert Rochereau - whom she subsequently divorced as well.
During a 1987 exhibition in the Fondation Pierre Gianadda in the Swiss city of Martigny, where the Sao Paulo Museum of Art displayed its collection, her newphew (Jean de Monbrison) recounted her sad end to the museum. She was, he explained, converted to Catholicism when she was still very young. Despite this she was arrested and sent off to Auschwitz because of her Jewish descent. In March 1944, at the age of 69, she died while on her way to the concentration camp.