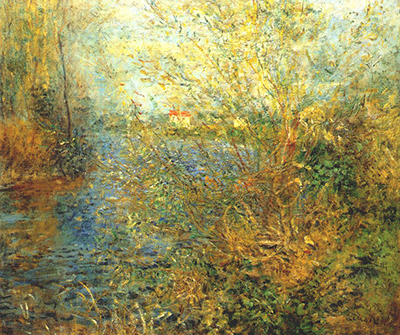 Buy Art Prints Now
from Amazon
* As an Amazon Associate, and partner with Google Adsense and Ezoic, I earn from qualifying purchases.
This old-fashioned river-town of Argenteuil located on the banks of Seine River is a quick fifteen-minute drive from Paris
The 1870s and 1880s saw the town become an epicentre of inspiration for the Impressionists who relived its streets, bridges, gardens and other spectacular views using paintings. For Renoir, a majority of his work was characterised by human figures; notably women. He hardly engaged in plein-air landscape painting as in this piece. Renoir created The Seine at Argenteuil during the summer of 1874, which expressly shows his prowess in painting landscape pieces despite his unwavering focus on human picturesque. It is said that he painted this piece alongside Claude Monet who, at the time, created the painting-Sailboats at Argenteuil.
The artist is renowned for his depictions of curvy women, flowers and pleasant sceneries. Admittedly, he derived lots of pleasure in his work, drawing inspiration from different sources. Unlike other painters who stuck to one painting technique, Renoir experimented with new painting styles throughout his career. In fact, he was the first Impressionist to depart from the movement's painting style of buildings, nature and still-lifes; his enthusiasm for drawing lively people was evident to all who met him. The Bathers and Nude in the Sun are Renoir's most popular works, which accorded him a huge following. Renoir drew lots of inspiration from various artists and painting periods. As a result, he adopted a characteristic technique that was unique and introduced a new painting dimension for most Impressionist artists. Renoir's early days of his career were influenced by Manet, an Impressionist whose works were not exhibited in the Salon. Later on, his work had traces of Courbet's realism style.
After he was granted permission to copy at the Louvre, Renoir's works were inspired by the likes of Fragonard, Watteau and Boucher, who were popular Rococo masters. It inspired him to focus on classic paints, but he maintained the use of luminous palette unique to Impressionism. Renoir also spent time studying Eugene Delacroix and Camille Corot paintings. His works were also influenced by Degas movement as well as the 18th-century leaders Boucher. The Ingres period saw Renoir turn to classicism as his paintings were more severe in style. This was after visiting Italy in 1881 when he was exposed to works by Raphael and other reputable Renaissance artists. Renoir's paintings during this period were more emphatic on figure outlines. When he first displayed his works at Societe Anonyme, his works were not received with much enthusiasm. Critics were surprised at Renoir's use of plain oil sketches to create complete works. The Nude in the Sun painting is probably the most critiqued piece that saw critics like Albert Wolff ask Renoir to explain why he would paint a woman's torso as decomposing flesh.