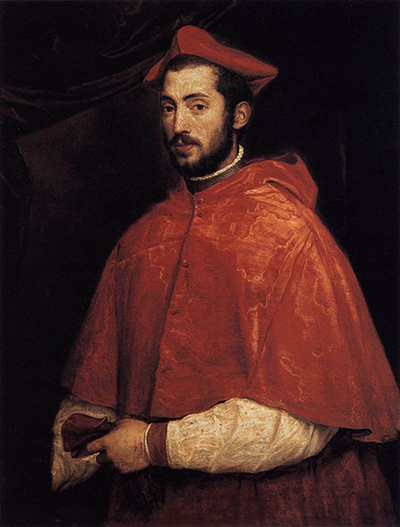 Buy Art Prints Now
from Amazon
* As an Amazon Associate, and partner with Google Adsense and Ezoic, I earn from qualifying purchases.
Cardinal Alessandro Farnese is a portrait by Titian from 1545-1546 and can now be found at the Museo Nazionale di Capodimonte in Naples
Grandson of Pope Paul III, Alessandro Farnese was an influential figure in Roman society despite never quite making it to the position of Pope himself. He also was a significant supporter of the arts, as underlined by the number of portraits that he commissioned by some of the most famous names in European art of that period.
Alessandro introduced Titian to his well-connected family and would continue to commission the artist for further future work. The artist would use his popularity to garner favour for his sons, with Pomponio hoping to become a clergyman. Whilst Orazio continued to work in his father's studio, Titian requested that Pomponio be placed at the prestigious Abbey of San Pietro in Colle. Such a location was close to his father's own property and would help keep the family together.
As a further reward for the help given to his son, Titian agreed to visit Rome and produce work for the Pope which he had not previously agreed to. This underlines how family life was significant to him and that he wasn't only interested in his artistic ambitions. That said, he was treated with great respect on his visit, as any guest of the Pope would be. He also was able to study the work of Raphael and Michelangelo whilst visiting the city and this would have provided an additional boost to his work.
The Museo Nazionale di Capodimonte in Naples holds this artwork alongside a fine collection of art from the various stages of the Renaissance. There is also further art movements up to the present day incorporated into a breathtaking art venue. There are Michelangelo drawings, El Greco paintings plus other work by Masaccio and Giovanni Bellini. Titian is well represented with Portrait of a Girl and Danae 1546 and Mary Magdalene Repentant with the rest of his work spread evenly across Italy and the rest of Europe.