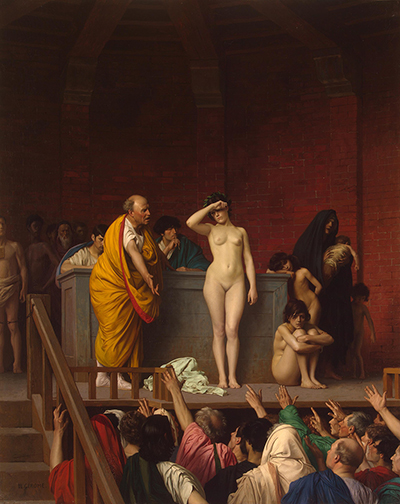 Buy Art Prints Now
from Amazon
* As an Amazon Associate, and partner with Google Adsense and Ezoic, I earn from qualifying purchases.
Slave Market in Rome is an oil on canvas painting executed by the French artist Jean-Leon Gerome in 1884. The painting measures 92 by 74 centimetres and it's located at the Hermitage Museum.
In the context of an art-historical, Harem scenes portrayed domestic spaces for women in Muslin societies. Males were only involved in barbaric, sexual relations. Slave Market in Rome depicts an unspecific North African or Middle Eastern setting. In the background, there are two enslaved males, one white and one black. Women were portrayed with passive sexuality while men were portrayed with disrespectful towards women and domineering.
The artist's depiction of slave trading is also seen in his other works, with some set in the Classical era. Gerome painted another painting with a slave trade scene in 1857 called Buying a Slave. This painting is set in the ancient Roman or Greek world, and the racial differences between the slave, the seller and the buyer are not clear. The slaves depicted in Gerome's paintings sometimes have a different skin colour - as seen in his 1871 work The Slave Market. In all cases, there is a woman or women on sale, with men as sellers or buyers.
Gerome used academicism style in this work. The work was influenced by the Académie des Beaux-Arts, a French learned society practised under the movements of Romanticism and Neoclassicism. This artwork portrays the horror of women trafficking. The artist did this by deifying the bondwoman through her naked positioning in the middle of the composition while wearing a wreath on the head.
He also did this by giving the naked woman a French look and also by means of the pity aroused by the girl who is seated on the ground, pressing her knees up on her chest, worn out, hurting and humiliated. Here, realism serves the love of humanity, carrying no message of supremacy. The legacy of Gerome is seen through the works of many of his students such as Hosui Yamamoto, Vasily Vasilyevich Vereshchagin, Mary Cassatt and Odilon Redon as well as other people who went to Paris from the US to study, including Edwin Lord Weeks and Thomas Eakins.