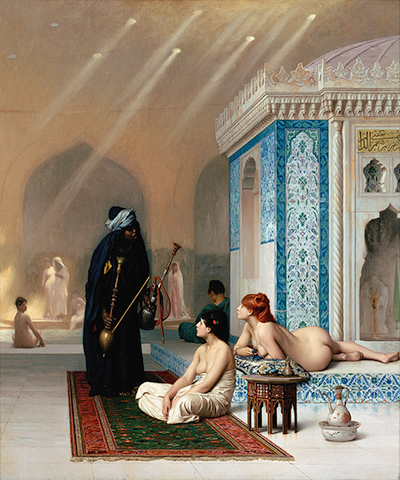 Buy Art Prints Now
from Amazon
* As an Amazon Associate, and partner with Google Adsense and Ezoic, I earn from qualifying purchases.
Jean-Léon Gérôme paintings fit into the Academic and Orientalist art movements, but his career can be considered truly unique across all the centuries of art history.
There were several exceptionally trained artists related to Gerome, but his choice of content sets him apart, with a selection of historical scenes and exotic depictions of cultures abroad.
The artist's painting pictures here to the left, Pool in a Harem, was chosen because it is typical of several aspects of his work. There are the alluring, elegant women that are dotted around many of his scenes, as well as the foreign influences of architecture and clothing which add an extra element of interest to the work of this painter who starred in the mid to late 19th century.
There is an elegance and assurance to many of Gerome's paintings and the public have truly embraced his career, with it perhaps becoming more popular than some art critics may have expected during his own lifetime. For example, reproduction prints of his most popular artworks are particularly popular, with many appreciating the class, exotic features and calming atmosphere of his work.
The popularity of Gerome's career has led to a large number of research projects over the past century. They have helped to uncover more of his work and also collate it together into a comprehensive catalogue. Efforts have also been made to identify all of his sculptures as well. At the time of writing, there have been 700 paintings and 70 sculptures pieces attributed to the artist and it looks unlikely that many more will appear from private art collections in the next few centuries, such is the fame surrounding his career.
The numbers underline quite how prolific this artist was, considering the amount of research and detail that he put into each painting. Indeed, when you add in his study drawings too, there would surely be over a thousans artworks in total from his career, plus whichever ones have been destroyed in the years since his career took hold.
The Academic art movement has fluctuated in popularity over the years, with some seeing it as the height of technical excellence, whilst others viewing it as lacking the flair and imagination of other art movements such as Impressionism or Expressionism. The modern era is more accepting of different styles, with many appreciating the merits of all of these styles. Whilst Gerome stands as one of the finest exponents of the Academic approach, there was also significant contributions from the likes of William-Adolphe Bouguereau, Paul Delaroche, Alexandre Cabanel, Sir Lawrence Alma-Tadema and Frederic Leighton.
Just this group of artists alone should be enough to convince most of the qualities of this art movement and its importance with European art history as a whole. Regarding his own legacy, Gerome would have many students in his later years and these would provide a bridge for his work into future generations. Some notable names came under his tutelage inclluding Odilon Redon and Mary Cassatt.