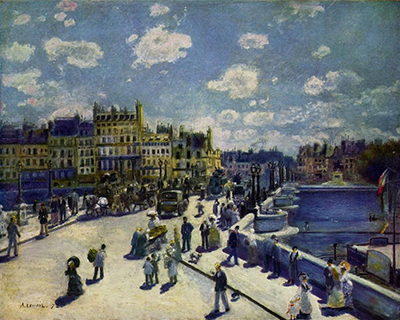 Buy Art Prints Now
from Amazon
* As an Amazon Associate, and partner with Google Adsense and Ezoic, I earn from qualifying purchases.
Pont Neuf was painted by Pierre-Auguste in the year 1872. Renoir was better recognized for his passion and prowess in landscape painting. He was also famous for painting voluptuous nude women.
Pont Neuf was done within a single day though there had been keen planning prior to set the ground for the painting. The painting was done during the 1870 to 1871 civil strife period in France, right off the Franco-Prussian war. Pont Neuf is of landscape orientation and has most of the impressionist painting techniques of the time.
This painting was done at a time when Renoir and other fellow like-minded painters were trying hard to attract interest towards impressionist painting.
This painting is one of Renoir greatest masterpieces in landscape painting. It has been able to generate interest from far and wide. The application of both classical and impressionist techniques in this landscape setting created a phenomenal picture that is the painting.
Theme and Technique
Pont Neuf features the very best in light painting. The application of light in this painting was amazing. The balance in contrast and color blend has continued to dazzle many across decades.
The painting depicts happy moments of a summer in Paris. Renoir was able to vibrantly capture even very trivial details of the setting and bring them into perspective. The painting captures the setting wholly and therefore it is able to make sense of all the structural images in a very extraordinary way.
The illusion of dazzling light makes the painting phenomenal. The painting brings an aura of tranquility. It depicts the images of people enjoying summer sunlight in Paris without a care in the world.
At the time France had been just from the back of a civil strife, and the painting is a great reflection of people enjoying the small things in life that are otherwise taken for granted at times. Pont Neuf is a fantastic blend of creativity, sensuality, and talent.
Artists Renoir Worked With
Renoir was able to work with a couple of artists over his vast painting career. He worked with both impressionist and classical painters. At the time of painting Pont Neuf, he was working with impressionist painters such as Claude Monet, Alfred Sisley, and Fredric Bazille.
These painters had taken it upon themselves to advocate and popularize impressionist painting after their paintings had been rejected at the salon, a popular exhibition for young painters. The had resolved that creativity was important in painting as opposed to copying from masters, which is most painters were doing at the time. Renoir was also able to get inspiration from other artists such as Camille Pissarro and Edouard Manet.
Renoir lived somewhere between the worlds of Realism and Impressionism and was always keen to avoid being placed in either grouping specifically. Famous Realist artists include Ilya Repin, Edward Hopper and Gustave Courbet. Hopper's finest paintings was Nighthawks, whilst Repin gifted the world Russian classics such as Barge Haulers on the Volga, Religious Procession in Kursk Province and Ivan the Terrible and his Son.
Other Popular Paintings By Renoir
Renoir produced many phenomenal paintings during his painting days. His paintings are some of the most expensive today. They have also inspired generations of painters over the decades. His paintings were always well crafted to always leave a lasting impression on any art enthusiast. Among his most popular paintings include:
Luncheon of the Boating Party - This painting is arguably Renoir's greatest masterpiece. The painting was done between 1880 and 1881. It is a landscape painting featuring the images of a number of Renoir friends having lunch on a balcony. The blend of lighting and color was amazing and propelled this painting into the great piece of art it is today.