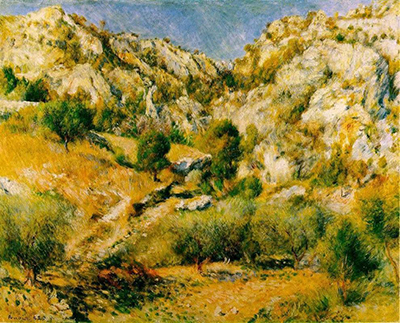 Buy Art Prints Now
from Amazon
* As an Amazon Associate, and partner with Google Adsense and Ezoic, I earn from qualifying purchases.
Painted while he was on a visit to his close friend Paul Cezanne, Pierre-Auguste Renoir (Renoir) worked on Rocky Crags at L'Estaque in 1882
A challenging and thought provoking Provençal coastal scene, it is compelling to think that just alongside Renoir, to his left or right maybe, Cezanne too was working on one of his own renowned compilations of the area.
Putting such alluring gossipy matters aside however Rocky Crags at L'Estaque is actually somewhat of an unusual piece for Renoir. The bold oil on canvas production is painted at the village of L'Estaque, just west of the bustling port of Marseilles, where many Impressionist and Post-Impressionist artists were drawn.
Whilst the French Riviera remains a magnet for land and seascape artists fascinated by the natural light, Renoir seemed to be far happier among the fields, forests and meadows of the countryside which surrounded his favourite location and subject, the capital Paris.
The vista presented is a section of the Chaîne de L'Estaque hills and a type of which is seldom apportioned to Renoir. The reason again is largely because of the location of the piece though the lack of any person at all is also worthy of note.
The viewer is immediately faced with a domineering bright white chalk cliff face, boldly taking a step to the fore, as it rises from scrubby slopes with vegetation fighting through the titular crags and sandy dirt to command their rightful place in the landscape. It is set beneath a typically bright and southern blue French sky with just the hint of a coastal zephyr fingering its way from sea to land.
Many artists would begin in landscape painting before moving elsewhere, particularly in the 20th century. One example was Wassily Kandinsky who went onto produce stunning abstract paintings such as Composition IV, Composition VII and Composition VIII.
That is the immediate image at least. A few seconds more and eyes will naturally be drawn to the foreground which reveals the start of a path, likely coming from the beach behind. Followed, this path meanders its way up the nearby foothills and dunes before disappearing into a shaded crevice with scrub, rocks and trees closing in - or simply bringing the path to an end.
Scanning the picture further though suggests the path could continue up the cliff or that other paths could have been carved into the rock edifice. Some trees are clearly in motion whereas others are not too. This is not a confusion or argument though - just Renoir playing with his craftsmanship wonderfully displaying how the wind rifles, swirls and drops completely through the coastal landscape.
By the time Renoir took to task on creating Rocky Crags at L'Estaque he had achieved the peak of his accomplishment with Impressionism as he saw it. It conveys the serenity and hidden struggles of daily life in nature and is a worthy addition to the artist's portfolio.