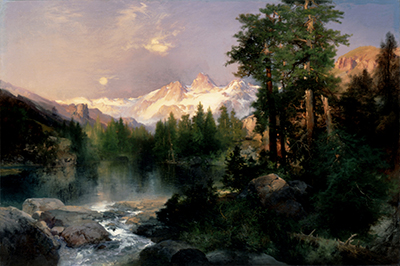 Buy Art Prints Now
from Amazon
* As an Amazon Associate, and partner with Google Adsense and Ezoic, I earn from qualifying purchases.
The Three Tetons is a painting by Thomas Moran. Thomas Moran lived for almost a century, born in the 1830s and dying in the 1920s. He was associated with Hudson River School, an art movement in the mid 1800s concentrated in America.
It was a collection of landscape painters who were inspired by Romanticism. The name of the movement comes from the Hudson River Valley which most of the painters depicted in their works. They also typically painted nearby areas such as the White, Catskill and Adirondack mountains. Thomas Moran is known as one of the greatest American painters.
Much like the Hudson River School, Thomas Moran painted landscapes such as the Rocky Mountains. In particular, he enjoyed painting the American West. As well as painting landscapes, Thomas Moran was skilled as a colorist and illustrator. Thomas Moran was included in another art movement called the Rocky Mountain School which included many landscape artists who painted landscapes of American scenes. Within this school was the German-American painter Albert Bierstadt, the Anglo-American Thomas Hill, and Scottish-American William Keith.
The Three Tetons by Thomas Moran was created in the late 1890s. It is a landscape painting created in the medium of oil upon canvas. The artwork is currently in the White House Collection, within the White House in Washington, D. C along with two other pieces by the artist. It sits in the Oval Office a lot of the time alongside George Washington's portrait.
Albert Bierstadt, Thomas Moran's fellow painter, was known for painting the Rocky Mountains and Sierra Nevada particularly. Thomas Moran, though part of the Hudson River and Rocky Mountain school was known for painting the Grand Canyon and the Yellowstone area. Thomas Moran's beautiful depictions of Yellowstone contributed to it being made America's first national park in 1872.
Thomas Moran utilised powerful form and bold colours in The Three Tetons. Thomas Moran depicted a dramatic scene of The Teton Range which is not far from Yellowstone itself, south from the national park. Thomas Moran gifts an already impressive landscape a dramatic hold on the viewer. He employs light to display how grand and large the mountains and landscape really are. The river divides the lower portion of the landscape and then as the eye goes up, the fields divide it horizontally.
The main feature of this painting is the Teton Range which sits behind the trees. An intense colour contrast is used to give the range even more attention. Whilst most of the painting is in earthy shadow, the mountains are basked in sunlight.