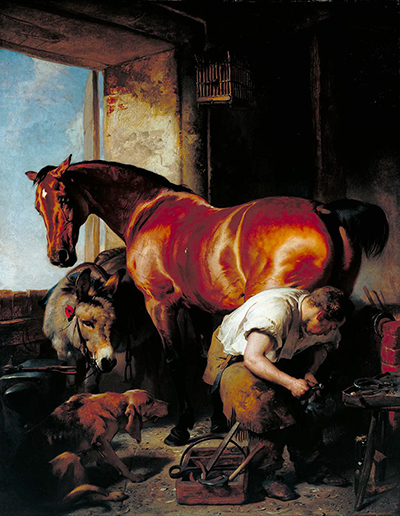 Buy Art Prints Now
from Amazon
* As an Amazon Associate, and partner with Google Adsense and Ezoic, I earn from qualifying purchases.
Sir Edwin Henry Landseer's Shoeing painting was commissioned by one of his long time patron, John Bell. The painting depicts John Bell's mare "Old Betty". Initially, Bell had intended Landseer to portray the horse alongside her foal. Despite Bell's intention, the artist time and again sidelined the commission.
At the time Landseer was ready to start painting the "Old Betty" her foal had grown and become bigger than the mother. By him introducing a donkey into the scene composition, he was utilizing a technique or style commonly used by most of the animal painters, in which the donkey's rough skin is compared to the horse's sleek skin. In the year 1824, he travelled for the first time to Scotland where he loved the highlands that later were the inspiration for most of his later paintings. The artist as well visited Sir Walter Scott, who loved his works and selected him as one of the illustrators in his literary works. During the 1830s, Sir Edwin Henry Landseer's paintings started gaining popularity. In 1850, Landseer was among a group of artists that were commissioned to create a portrait painting for the royal family. However, the picture was never completed.
Sir Edwin Henry Landseer's popularity during the Victorian era was substantial, and his skills as an animal sculptor and painter were incomparable. Queen Victoria herself commissioned several paintings from Landseer. He was initially appointed to paint different royal pets before moving on to paint pictures of gamekeepers and ghillies. His painting, Shoeing, was particularly successful and made me famous. Since then, the painting has been reproduced and is available in many of the museums and galleries in the world.
Sir Edwin Henry Landseer was born at 71 Queen Anne Street (now 33 Foley Street) in the year 1802 and died in the year 1873 in London. He was a renowned British sculptor and a painter, and particularly he was famous for his animal paintings, especially the dogs, stags as well as the horses. He was a son to the engraver, John Landseer. Edwin Henry Landseer learnt his sculpture and painting skills from various artists, including his father, as well as from Benjamin Robert Haydon, a history painter who motivated the then youthful Henry Landseer to learn and understand animal skeletal structure and musculature. He was an excellent animal painter who used oil paint on canvas to present his work, especially during the Victorian era due to his style of giving his animal painting scenes a moral aspect. His paintings were highly distributed during his time as engravings, in most cases created by Thomas, his elder brother.