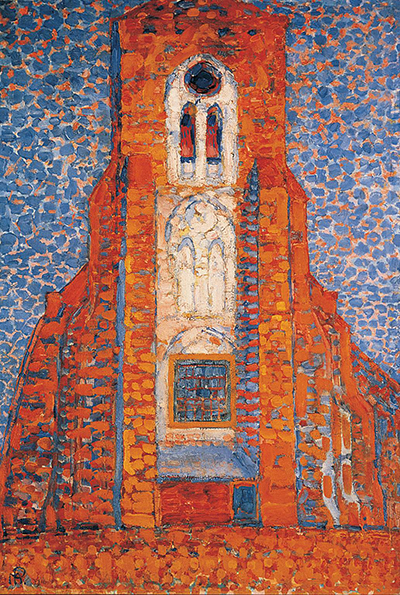 Buy Art Prints Now
from Amazon
* As an Amazon Associate, and partner with Google Adsense and Ezoic, I earn from qualifying purchases.
Mondrian spent his summers in Zeeland from 1908 up until around 1912, and these visits would inspire a large number of bright and uplifting artworks of this very unique landscape.
It was in and around the town of Domburg that he would spend much of his time, and in a village close by he came across this Gothic church. This beautiful structure would inspire several paintings, completed in different styles. There was also a drawing made in pen and ink which followed the same composition as found in the painting displayed here. Of the different versions produced, this is the most stunning and vivid interpretation, featuring spots of bright colour which together form a type of painted mosaic which feels warm and modern. It is not that disimilar to the pointilist approach, where a myriad of small dots create an overall look, but his approach here is for larger touches of oil, with some shaded areas below them.
Some research has revealed a little more on the working processes of the artist when putting together this Sun, Church in Zeeland, Zoutelande Church Facade piece. Firstly, the canvas itself is longer than the artwork displayed here, revealing how the artist had actually planned a slightly larger composition with space either side of the facade, and detail further up from the top of the building. These were all completed at the time, but he later decided to essentially crop the piece at what we see today, by wrapping the removed elements over the stretcher, keeping them from view. Based on past behaviour, it is unlikely that Mondrian would have completed the work in the vicinity of the church, but back within the comfort of one of his studios. Suggestions have been made that he might have used photographs of the church, alongside hand drawn sketches of his own, in order to complete this series of paintings.
The artist completed another version of this view, titled Church Tower at Domburg, though varied the colours and style considerably in that piece. Gone are the pointilist touches of paint, with bold tones of blue dominating the eye and a more fractured use of shapes for the sky, similar to how some artists have captured cracked ice within a frozen lake. The effect is entirely different, but still fresh, modern and worthy of artistic note. Whilst working in and around Domberg, Mondrian would have come across a group of locally based artists who were themselves seeking to create new ideas and so would have been encouraged to try out these different approaches within an overall colour scheme of vividity and warmth. The latter piece which is dated at around the same time could almost be a photographic negative, where colours are completely reversed from reality.
Tones of blue and orange are used for the two main areas of the artwork - the building itself and the sky behind. Each will be predominantly of one of these tones, with the other colour then used as a secondary additional tone, which allows the overall piece to have a consistent look. Colours were something that Mondrian studied intently, along with a number of famous artists during the 19th and 20th centuries. Many theories were being formulated around the relationships of different colours during this time and it was allowing artists to consider new potential combinations in different periods of their work. Klee and Kandinsky were perhaps the most famous for this, though many more examples can be found.
Further Paintings by Piet Mondrian in Zeeland, 1908-1912