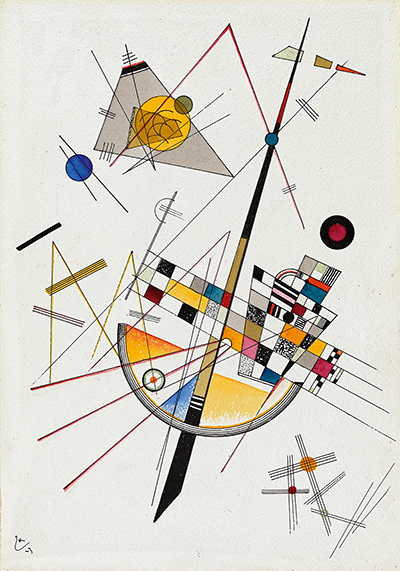 Buy Art Prints Now
from Amazon
* As an Amazon Associate, and partner with Google Adsense and Ezoic, I earn from qualifying purchases.
Artist Kandinsky made use of several different styles during his career but it was his abstract, geometric forms for which he is most famous today. These precise shapes could also be achieved as a draughtsman, and the artist planned many of his paintings using this medium.
This was an artist who valued the theory behind art, as well as the technical learnings required to become the best artist that you can. Regardless of your own style, he realised that it was essential to understand and appreciate the highlights from art history, dating back to the Early Renaissance and even before that. Those movements placed a large importance on the qualities of draughtsman, with a painter not being academically accepted unless he could also draw to a high standard. At an early age, Kandinsky worked hard on being able to draw accurately and many of his early tutors also underlined the medium's importance.
Later on, he would regularly combine drawing and watercolour in order to quickly put together study paintings that prepared for a later oil painting. This enabled him to get a good understanding of how his ideas would eventually look, but without sinking too much time into the initial process. His style was particularly precise, meaning amendments to an oil painting would be particularly difficult.
Kandinsky's Study Sketches
The extraordinary valuations that have been attributed to Kandinsky's paintings in recent years has encouraged major art institutions to also purchase the drawings which remain from his career. All of his famous works such as Composition VII, Composition VIII and Squares with Concentric Circles would have come about after a number of preparatory sketches. Some of these abstract scenes were exceptionally complex, and one could not achieve the finished piece without considerable pre-planning. Many of these drawings have been uncovered, whilst others were lost or destroyed due to the fragile nature of paper and the way in which the artist would not have cared for them in quite the same way as his completed works in oil. In examining his drawings we can understand how he went from initial idea to final work, and normally he would move from one drawing to the next, slowly adding more detail each time. Once he was happy, we would then move on again until he reached the final, approximate, composition. This process would work with more traditional art too, such as capturing figurative elements individually, before putting them together in the final artwork.
There is a video included here which captures the artist at work and offers an intriguing insight into how his abstract lines and shapes were formed. Studying the earlier drawings also helps us to understand Kandinsky's thinking, and specifically which elements of the composition were most important to him. For example, a number of drawings for Composition IV have been uncovered which focus entirely on the Cossacks who embrace on the right hand side of the scene. He then moved onto other figures in this scene as well as the larger elements of the background landscape. Perhaps the remaining elements may then have been produced instinctively, making use of previous work in his memory. For Composition IV alone, there are around 20 drawings that have been uncovered, most of which are now owned by the Georges Pompidou Centre in Paris. When they are displayed alongside each other, we can quickly learn so much about the artist's mind. A recent publication has also helped to draw attention to this specific series of work.
This process then continued in the next iterations in his Compositions series. It was this set of paintings which helped Kandinsky to build the reputation that he still enjoys today, and without his preparatory sketches, perhaps the finished works would not have had the same impact. Many famous names from the global art world do not always work from the comfort of a large studio. They may work on a wim, from time to time, and wish to record these ideas for later developments. Sketchbooks then serve this requirement perfectly, easy to transport and also enabling one to work quickly. They can then be stored and referred to at a later date, in some cases even decades later. Kandinsky's drawings served more of a defined purpose, though, typically with an upcoming painting in mind and so they would not have been stored in quite the same way as some landscape artists who would refer back many years later to remember a specific location that they suddenly decided to work on. This was almost a form of manual photography, at a time when that art form was very much in its infancy.
The artwork that we have displayed here was titled Zarte Spannung (Delicate Tension) and used a combination of watercolour and ink. It is a part of the permanent collection of the Museo Nacional Thyssen-Bornemisza, Madrid which itself holds an impressive collection of influential modern art. This drawing is dated at 1923 and this institution is one of the highlights of the Spanish capital, which remains one of the best destinations for art in the world. The museo Nacional Thyssen-Bornemisza also holds original work by other notable masters such as Paul Cezanne, Domenico Ghirlandaio, Peter Paul Rubens, Giambattista Pittoni and Vincent van Gogh in a truly eclectic collection. Alongside this exciting venue, you will also be able to visit Museo del Prado and Reina Sofia whilst in the city.
Kandinsky's Cover Designs
The artist also produced a large number of illustrations for various publications, most famously a cover design for Der Blaue Reiter. This almanac was a collaborative project aimed at drawing together like minded modern artists. At that point he was closely connected to a number of other notable artists and they liked to share ideas and theories on the direction that the art scene should be going. Contributors were given relative freedom to dicuss any issues that they felt passionate about and some of the other major artists involved included Franz Marc, August Macke, Alexej von Jawlensky Gabriele Münter and Albert Bloch. Kandinsky himself was one of the highest profile and influential members and was thus awarded the honour of producing a cover design. The entire movement was named after his painting from 1903, which features a horse and rider sprinting across a green landscape scene.
Detailed Photograph of Zarte Spannung (Delicate Tension), an Ink and Watercolour Drawing