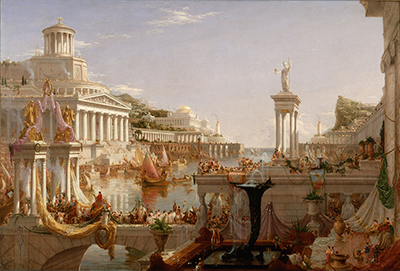 Buy Art Prints Now
from Amazon
* As an Amazon Associate, and partner with Google Adsense and Ezoic, I earn from qualifying purchases.
Thomas Cole was integral to the creation of the first truly famous North American art movement, and this biography details his rise to success in detail from his family's move to the United States from England all the way through to his acceptance as one of the finest landscape painters of all time.
The artist's family were based in the large town of Bolton in Lancashire, England before choosing to relocate to the United States, just as many chose to do during this period. Cole arrived in the States aged 17 and was to spend most of his formative years developing his artistic skills within this country, though occasionally returning back to Europe in order to learn more about previous generations of artists from this region. He spent short spells initially in a number of American cities, such as Philadelphia, Ohio, and Pittsburgh. He managed to build a career from producing portrait paintings but was still struggling to make much of an impression at this time.
Cole's earliest success came in exhibiting in Philadelphia, having made several notable contacts at the local academy. It was then a chance journey by train that alerted his creative juices whilst travelling in the Catskill wilderness. He was immediately taken by the beauty of this area and was from that point onwards, truly a landscape painter at heart. He set about producing and developing his work with landscapes and soon came to the attention of several notable names in New York City. The support of these respected artists helped to push his reputation nationwide and he was also soon to be made a fellow at the National Academy. Cole had, at last, truly arrived as an artist and could now concentrate on finetuning his output, safe in the knowledge that his financial future was secured.
Several years later Thomas Cole would travel across Europe over an extended period. His family still had business ties in England which he would need to attend to but he took advantage of this trip in order to draw in new artistic experiences in both France and Italy. He would even add several new donors to his list of contacts as he travelled around. The artist then presented his work from this period in late 1832 in New York. The reception to these paintings was positive and he continued to establish himself as a specialist in the landscape genre.
The mid to late 1830s marked the point at which Cole's paintings peaked in value. He received $4,000, for example, for his four-part series entitled The Voyage of Life. His donor sadly did not live long enough to see this project completed. A year earlier the artist had completed the other notable series from his career, namely The Course of Empire. These two collections of work dominate the highlights of his career, which is quite something considering the amount of paintings that he produced across his career. Besides his impressive list of wealthy donors, he also partnered with Luman Reed, a New York gallery owner, who agreed to put any additional pieces on sale too.
The industrialisation of the United States had begun to seriously concern Thomas Cole by this point. He was worried about his beloved landscapes being damaged or lost forever and could only see the situation worsening in the future, without a serious intervention by campaigners to influence the ruling powers. Many artists have followed a similar path, right across the world. Albert Bierstadt was devoted to his own artistic region, for example, whilst British textile designer William Morris was disgusted by the similar natural damage going on across the pond in the UK. With Thomas Cole being a landscape painter, he would feel this pain even more significantly.
Cole married Maria Bartow in November 1836 and they would have a child, Theodore Alexander, two years later. Several years later the artist decided to return to Europe once more and on this occasion he took in the likes of France, Italy and Switzerland. The artist again found inspiration in these picturesque nations in order to put together a number of new artworks, just as he had done on his previous tour. The overall trip lasted just over one year and there was immediate interest in these new works upon his arrival in the United States.
Cole passed away in February 1848 and had spent most of his last decade attempting to sell more of his work in order to deal with financial difficulties that had beset his family. Aside from this, the artist also put considerable attention to ensuring that his skills and experience would live on through others. Frederic E. Church worked in his studio and developed quickly under his tutor. Thomas Cole also put greater time into his religious commitment and would sign up for roles within the Church. This move was perhaps influenced by his increased role in society as a figure whose opinion would be sought and he wished to provide the best example possible.
Foreign Influence on American Art
American art history is full to the brim of great names who came from abroad to live in this young country before contributing their own influence on its later artistic development. Due to the time at which it came about, the Hudson River School is particularly the case in this regard, in part also due to the fact that landscape art was traditionally a preserve of the Europeans and as such there needed to be a certain level of relocation in order to spread the beauty of this art genre across to North America. In order to produce a diverse selection of artistic styles, it makes sense that you would require a mixture of influences and in this case the US has benefited enormously from its policies to immigration.
Thomas Cole himself took several journeys back to Europe across his lifetime in order to study the traditional landscape painting techniques and inspirations, concentrating most on his former home in the UK plus also the artistic capital of Europe at that time, Italy. JMW Turner made a similar pilgrimage himself, taking a number of small sketchbooks around cities such as Venice in order to draw some of this region's beautiful scenery and architecture. Later they would then return to their studios in order to complete large scale oil paintings. John Singer Sargent would later do likewise, as would thousands of others of the next centuries.