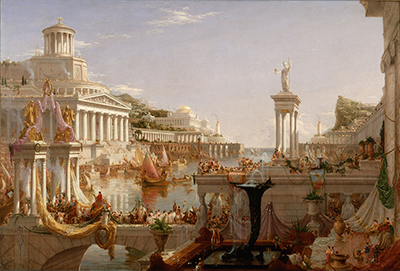 Buy Art Prints Now
from Amazon
* As an Amazon Associate, and partner with Google Adsense and Ezoic, I earn from qualifying purchases.
Thomas Cole's Consummation of the Empire is part three in a series of five landscape oil paintings depicting the rise and fall of civilisation in Cole's imaginary civilisation.
The series, the Course of the Empire is thought to be a reflection on Cole's views on the towering industrial revolution felt in Cole's home country of England and to a larger extent, his adoptive country of America.
The Series
Painting one, Savage State shows the dominance of a vast wilderness virtually untouched by the hand of man. It represents liberty in its swirling landscape against a primitive human race reliant on hunting to survive. The second painting, Arcadian or Pastoral state is a lighter, dreamlike image showing a civilisation with hierarchies and religion. In the centre of the image near the top, positioned closely to God, is a temple of worship. Behind this, is the ancient majesty of a mountain, hinting that despite our growth we are still merely a second in time when compared to the land we graze upon.
The third painting is The Consummation of the Empire. The tone in this piece is lighter than previously seen, which to some may appear a deliberate choice by the artist to show his approval of the scene. However, there are many key objects in the image which hint at the artist's true meaning. The Consummation of the Empire explores gaudy wealth and man-made beauty as a dominant theme. This is in sharp contrast to nature, almost completely obscured in the name of progress. Natural elements are shunned to the rear of the image or tamed by the Empire to make use of, rather than enjoy. Mountain sides have been paved, whereas the harbour in the centre-ground has been made to conform through the use of bridges and navigated by civilisation's boats.
It is these boats, gold and resplendent, that depict the duality of the scene. Inside these vessels we see the humans who like nature have been made to conform to the constructs of others. Slaves are juxtaposed against their masters, rich and poor all inhabiting the scene, showing that for all the civilisations' advancements it is one that can only be experienced if you are one of the chosen few.
The Remaining Paintings
The following two paintings Destruction and Desolation are thought to be the artists warning of what may happen to civilisation if we don't embrace virtue and the elements from which we came. We return to a dark palette and the swirling mass in which the series was started. Desolation shows a tiny flicker of hope through its peaceful landscape overlooked by the moon in the night sky. A return to the natural world we once had, civilisation torn down, but still clinging to a life of virtue now all the materialistics gains have disappeared.