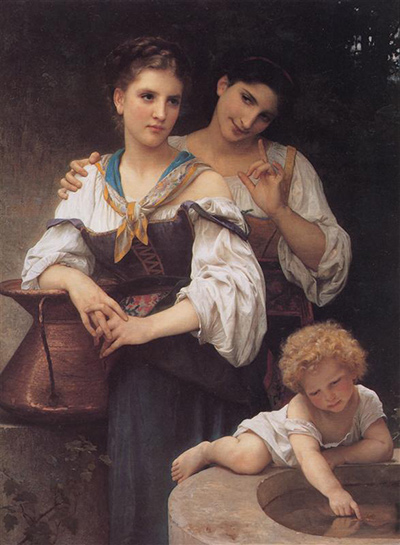 Buy Art Prints Now
from Amazon
* As an Amazon Associate, and partner with Google Adsense and Ezoic, I earn from qualifying purchases.
The Secret is yet another popular painting depicting graceful female figures by the world-renowned French academic painter and traditionalist William Bouguereau.
The Neoclassicism style painting was made on canvas using oil as a medium. The French title of the painting is 'Le Secret'.
Commissioned by a sugar baron from America, Robert Stuart, the painting was made in 1876. In 1873, the painter sent six preliminary studies to his patron and requested him to select the final composition from the six. Stuart then chose a scene depicting two female figures, in close conversation, as though revealing a secret. However, the baron made an additional request that Bouguereau add a child to the painting.
Stuart pointed out that Bouguereau can quote a higher rate for the painting since there was an additional subject (the child); he also encouraged the painter to take additional time if required as he does not want to compromise with the quality of the painting. Bouguereau finally completed the painting, which we see today, in 1876. The painting is now part of the collection of The New York Historical Society in New York City.
In the painting we see two women, the woman in front dressed in a blue bodice is more striking because of the way her dress slips down on the left side to reveal a bare shoulder. What's particularly enticing about the shoulder is its fullness and softness, like a swan's breast. The eyes of this ivory beauty are looking at a distance whereas her full lips are sealed.
Behind her is another woman, holding on to her shoulder, probably her sister. The aura of this lady seems to be giving off some kind of reprimand to the ivory beauty. They are standing by the garden fountain. Accompanying them is a child, who is making idyllic circles in the water using his/her finger. The homely features and graceful symmetry of the ladies illumine the painting, thereby making it even more captivating.
While there are many interpretations of this painting, one of the most prominent ones is the fact that the child could be of the younger lady, the one with the blue bodice. The elder lady seems to warn the younger lady that this action of hers would infuriate the household, however, she also coaxes her to reveal to her the secret of what the experience was like!